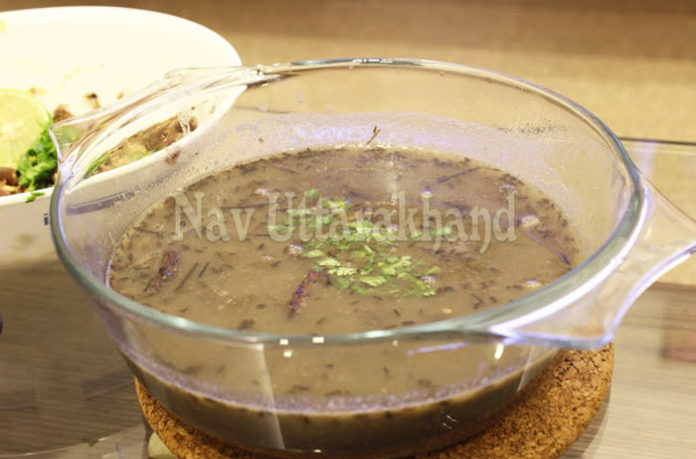 Rus or Thhatwani whatever you name or call, But it's delicious an appetizing and a highly nutritious dish made out of the mixture of many uttarakhandi dals/pulses. High in protein, Rus/Thhatwani is another creation coming straight from Kumaon's kitchen. It is frequently eaten in Kumaon region in winters with steamed rice and bhang ki chatni. It is usually made in iron Kadahi. Prepared by mixed lentils' stock and rice paste, this delicacy is best served with steaming hot rice. Basically to prepare this dish, several lentils are boiled and later the lentils are separated from the stock. Gandherni and Jamboo are two important ingredients. It is a typical authentic and very popular dish of Kumaon region. Fine rice paste is then added to the stock and it is served with rice. The remaining lentils are also served by throwing in a few powdered spices.
Ingredients:
Bhatt (Black Soybean)- 50 gm
Gahat (Horse Gram) – 100 gm
Rajma-(Kidney Bean) 50 gm
Lobia (Cowpea) – 50 gm
Kala Chana (Bengal gram) – 50 gm
Kabuli Chana (White Chickpea)- 50 gm
Whole Urad (Black Gram) – 50 gm
Rice flour- 1tbsp
Corriander powder-1tsp
Roasted cumin seeds powder-1tsp
Red chili powder-1/2 tsp
Garam Masala-1/2 tsp
Ghee-2 tbsp
Whole red chilies-4 to 5
Cardamom-4 to 5
Cinamon – a 2 inch piece
Bay leaf- 3 pieces
Cloves- 3 to 4 pieces
Gandherni – 1 inch piece
Jamboo- 1 tsp. (Cumin seeds- 1 tsp in lieu of Jamboo)
Salt- to taste
Method:
Soak all the pulses for 6 to 8 hours.
Boil all those with cardamom and cinnamon in a pressure cooker with plenty of water (just triple the quantity of pulses) for 20 minutes in low heat.
Mash some of the pulses and strain the stock in a separate vessel.
Put the stock on medium heat and add turmeric, coriander, cumin, red chili, garam masala powder and salt to it.
Dissolve rice flour in a separate bowl and add it to the stock.
Stir it continuously and bring it to a boil.
Add crushed gandhreni herb in the mixture.
Cook it for 5 to 10 minutes in low heat till it thickens a bit.
Remove it from the fire and let it stand for some time.
transfer it to the serving pot.
For Seasoning:
Heat Pure Ghee in a different pan.
Add Bay leaves, cloves, jamboo grass, asafetida and red chillis and let those splutter.
Turn the seasoning over the dish.
Sprinkle roasted cumin seeds powder over the dish.
Garnish with chopped coriander leaves.
Note- This dish is served best with steamed rice. The boiled pulsed can be eaten separately or can be mixed with salad. Some of the popular practice is to eat it as a snack by adding chopped onion, green chillies, chat masala and fresh lime juice to it. Those are full of proteins.
Leave something in response: