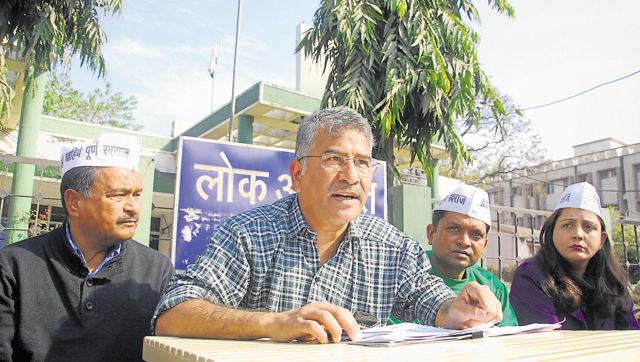 In a major blow to the Aam Aadmi Party (AAP) in Uttarakhand, more than 50 of his members of the party, including senior leaders, broke away and quit the party, forming a new rebel group, Hamara Uttarakhand Jan Manch.
Resentment and dissent within AAP's Uttarakhand unit had been brewing for the the past few months. A few weeks earlier, over 150-odd members had quit to join the Congress. The rebel group alleged that AAP's central leadership was paying no attention to Uttarakhand politics and the issues of corruption in the state.
"AAP has never been really interested in Uttarakhand and its issues. There was a feeling here that AAP was only interested in BJP-ruled states such as Punjab and Goa. It is reasonably clear that AAP has no interest in contesting Uttarakhand Assembly elections. Several volunteers, who had put their time and effort in the party, were feeling let down by the AAP's lack of interest," said Anoop Nautiyal, who claimed to be former president of AAP's Uttarakhand unit.
Bahuguna alleged that Nautiyal and his team were in the party "only to get a ticket for the next polls and when they saw that this was not happening, they decided to break away." "AAP is in a strong position in Uttarakhand and we have close to 50,000 members in the state," Bahuguna claimed.
The party, however, maintained that Nautiyal was the convener of AAP's Uttarakhand working committee.
The break-away faction further alleged that there was "no communication chain between us and the senior party leadership".
"Our pleas fell on deaf ears. In July, we had tried to reach out to senior AAP leaders and we wanted to meet (AAP Chief) Arvind Kejriwal. Nearly 20-25 of us had gone to Delhi to meet Arvind Kejriwal. We met Manish Sisodia, Ashutosh and Kumar Vishwas, but nothing happened," Nautiyal said.
Nautiyal, who had contested 2014 Lok Sabha polls on an AAP ticket from Uttarakhand, added, "People of Uttarakhand were looking at AAP as the alternative. But AAP has not shown any interest in the state. Not a single corruption issue here has been pursued by the central leadership…"
Others who quit the party included AAP's Uttarakhand treasurer Ranbir Chaudhari, Dehradun district president of AAP's minority cell Abdul Rehman, AAP's Sahaspur Assembly president Ganesh Kala, AAP's Dehradun district secretary Sameer Mundepi, AAP's Uttarakhand spokesperson Kamal Devrari as well as senior district leaders and volunteers, Nautiyal said.
Meanwhile, Vivek Yadav, who has been appointed the Uttarakhand state observer by the party, maintained that the break away group had taken the step due to "personal ambitions".
Speaking to The Indian Express, Yadav said, "Nautiyal and his coterie wanted party positions but such bargains are not acceptable to the party. He was appointed convener of the state working committee… But he had resigned, about two months back, after a no-confidence motion against him by other members of the committee. Action was initiated against some of his close friends for anti-party activities some time back."
Leave something in response: