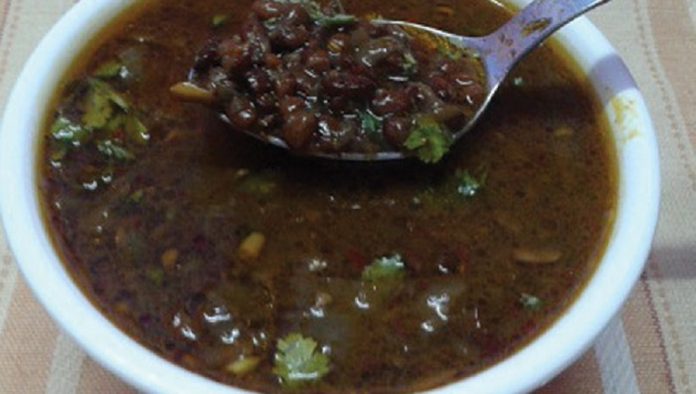 It is simple cuisine, extremely nutritious, basically vegetarian food from the northern hills of Kumaon – India. Bhatt, a variety of soya bean is black in colour, and lends itself to a variety of combinations and preparations.Eaten as the main component of a winter meal.
Ingredients:
 1.

Bhatt Dal

(Popular Uttarakhand Daal)

1 Cup (16 tbs) (Black Soybean)

 2.

Oil
1⁄2 Cup (8 tbs)

 3.

Jamboo (Tibetan Herb)
1 Teaspoon

 4.

Whole Wheat Flour
1⁄2 Cup (8 tbs)

 5.

Red Chilies
2 Medium

 6.

Red Chili Powder
1⁄2 Teaspoon

 7.

Turmeric Powder
1⁄4 Teaspoon

 8.

Coriander Powder
1 Teaspoon

 9.

Garam Masala
1⁄2 Teaspoon

 10.

Salt
To Taste

 11.

Water
5 Cup (80 tbs)

 12.

Pure Desi Ghee
1 Teaspoon (For garnish)
Method / Making:
Heat Oil in an Iron Kadai. Add Jambu and whole Red Chilies and fry.
Now add Bhatt Dal and fry till spluttering tapers down.
Add Wheat Flour to this and fry till reddish.
Immediately start pouring water, stirring along to prevent formation of lumps.
Add Turmeric Powder, Coriander Powder, Red Chilli Powder and Salt.
Allow to boil and then simmer on low flame for 20 minutes. A delicious aroma will come from the Chutkani when done.
Add Garam Masala and remove from flame.
Serving: Garnish with pure ghee and serve hot with rice.
Leave something in response: