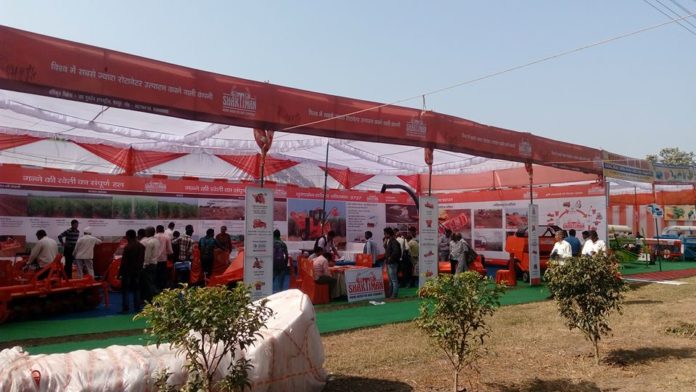 The leading Agro-products manufacturer Crystal Crop Protection participated actively with its strong presence in the 100th Farmers Fair (popularly known as Krishi Kumbh) held between 17 – 20 October 2016. The fair organized by G. B. Pant University of Agriculture & Technology, the largest agriculture university in Asia was held in Pantnagar, the birthplace of the green revolution. It was a mega event in which around 50,000 visitors from various corners of our country and Nepal participated.
Crystal registered its strong presence at the Krishi Kumbh with a hosts of activities organized for the benefit of farmers. Crystal's stall was the biggest draw at this Krishi Kumbh. Farmers throng the stall to know all about latest agricultural techniques and were very happy with all the information and help they got at the stall.
Speaking of Crystal's participation in the event, Mr Ankur Aggarwal, Managing Director, Crystal Crop Protection Pvt. Ltd. said, "Keeping up our tradition, we held the Crystal flag flying high at the Krishi Kumbh. This is part of Crystal's initiative to keep in touch with farmers and help them with farming solutions to maximize their yield and profit. Through such participation we introduce farmers to new products and share good farming practices and other useful information with them. They are told about correct and judicious use of plant protection agro-chemicals, proper and balanced use of fertilizers, and proper seed treatment methods."
According to the four-day survey report of a CABM- Pantnagar team, 30% farmers were attracted to the Krishi Kumbh because of Crystal's Training Stall which provided "seed to harvest solution" for them.
The farmer-centric crop protection provider was the only agro company to address farmers from the kumbh's central table, a prestigious platform. As part of its CSR activity, Crystal also organized a free medical camp at the venue.  It was a day-long activity, conducted by Mr. Surender Singh, medical assistant of Crystal's Nathupur Factory. Farmers participated enthusiastically in the live demonstration of agro products organized by Crystal. There were lucky draws for farmers every day.
Leave something in response: