On the festive occasion of Diwali, Pacific Mall has got a new makeover. A special theme Mayur Darshan has been conceptualized with an exotic decor at the mall. The theme is most apt since Mayur (The Peacock) is considered to be a symbol of prosperity, and Diwali is a festival of lights celebrated across the world. The festival celebrates new beginnings and the triumph of good over evil and light over darkness.
Keeping in mind the celebratory spirit of the festive season, Pacific mall has ample attractions for its esteemed customers. The incentive is to shop for Rs. 3,999/- or more, and get a chance to win Diamond Jewellery, 60 gram Gold Coins, Cameras, Mobile Phones etc.
Abhishek Bansal, Executive Director, Pacific Group, said, "Traditionally Indian families love to shop during Diwali. Many families have ambitious plans on Diwali, and usually end up buying more than they originally plan. Considering Diwali is synonymous with lights, celebration, gifting etc. we will have a marvelous spread laid out for every category of customers that will give them a wide variety to choose from. Besides the conventional golden jewelry wall hangings representing the goddess of wealth Laxmi, there will be other customary items too available."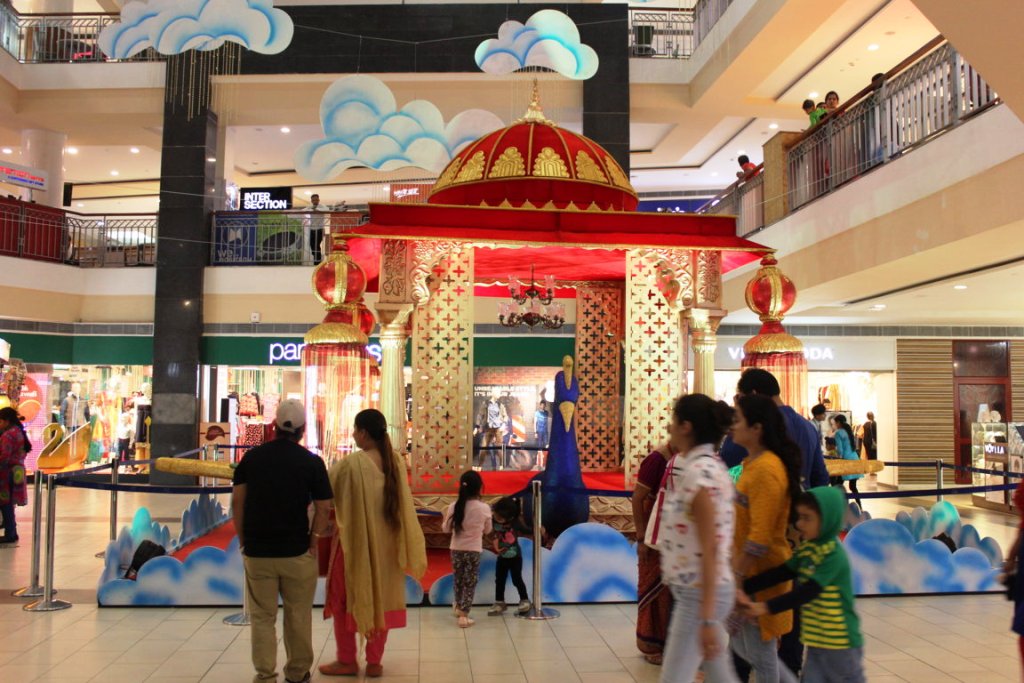 Some students and young professionals who frequent the mall are equally excited about the upcoming Mayur Darshan celebrations at the mall. Vaishali, a FYBA student who is a regular visitor said, "Diwali is a festival of lights and celebration. I am looking forward to having a fabulous time at Pacific Mall that has been beautifully decorated in the novel theme of Mayur Darshan. Not only is the mall looking so exquisitely grand, the peacocks in splendid colors adorning the interiors look true-to-life. I am also extremely excited to get a chance to win diamond jewelry or a gold coin."
Another regular visitor Shivam, a young IT professional has major plans in store. "It feels great to visit Pacific Mall. In fact, it seems like my second home where I can celebrate every festival. I do come here often, especially on every festival when the mall comes up with different concepts for its customers. My friends and I are very grateful to the owners of the mall, who make us enjoy such a pleasant experience. This Diwali too, every Doonite will be dazzled by pretty elegant colors and all the decorative hangings comprising Goddess Laxmi," said Shivam.
About Pacific Group:
Pacific Group is one of the leading real estate groups in Uttarakhand. With more than 50 multi-crore project, the group has interests in domains like retail, residential, education & hospitality. The matchless cross-domain expertise of the conglomerate has been proven time and again with its track record.
Leave something in response: