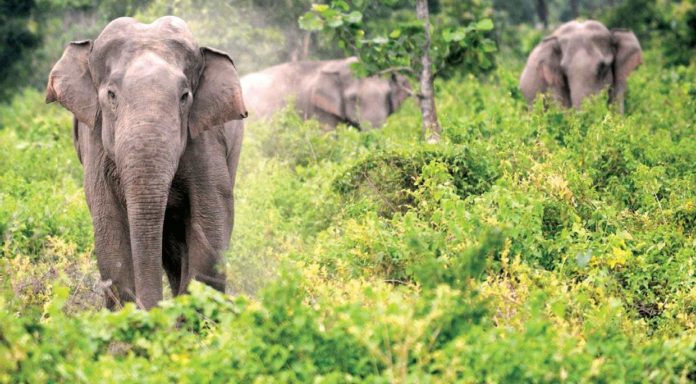 Corbett Tiger Reserve will soon get nine elephants from Karnataka government for patrolling and other activities within the park. Sources said that the "Elephants" started on their journey on Tuesday and will reach Jim Corbett in a few days. Earlier, the national park had 13 elephants for patrolling inaccessible areas but seven of these died following which it was decided to bring new pachyderms.
Principle chief conservator of forests, Wildlife, DVS Khati, who along with other senior forest officials travelled to Karnatka to ensure safe transportation of elephants, told TOI, "The elephants will reach the sanctuary in a week or so. All amenities for travel without discomfort are being arranged for the elephants including group of three veterinarians. The process of physically transferring the animals has already been initiated." The jumbo's are said to have been transported from Bandipur National Park in Karnataka.
Total seven big trucks are being used to transport the giants. The group includes two elephants aged two years and rest between 8-12 years of age. The travel is planned in two phases per day- 12 hours of driving journey and rest 12 hours for rest, for both, the staff and the pachyderms.
Fodder and other nutrients of tuskers including sugarcane, flour, rice, sweetening ingredients, water and medicines are being carried on other vehicles in the caravan. A group of 14 elephant trainers from Karnataka are also accompanying the convoy to train the elephants for some time in CTR.
Parag Madhukar Dhakate, at present director of Corbett Tiger Reserve, said, "The elephants will be of great help in patrolling in Kalagarh and southern part of the national park as these parts become really inaccessible using vehicles, especially during monsoons."
The officials of the forest department had been visiting the state and a team of doctors has also done a medical inspection. Earlier, the deal was for a dozen elephants but one died, one contracted tuberculosis and another is too small to be transported to any other territory which left nine for the officials to make amends with.
Named after Jim Corbett, a famous English hunter turned wildlife enthusiast, the national park was one of the pioneers in Project Tiger initiative. Sprawling in 520 square kilometer area it is said to be the home of 110 species of plants, 50 species of mammals, 580 species of birds and 25 species of reptiles.
Leave something in response: