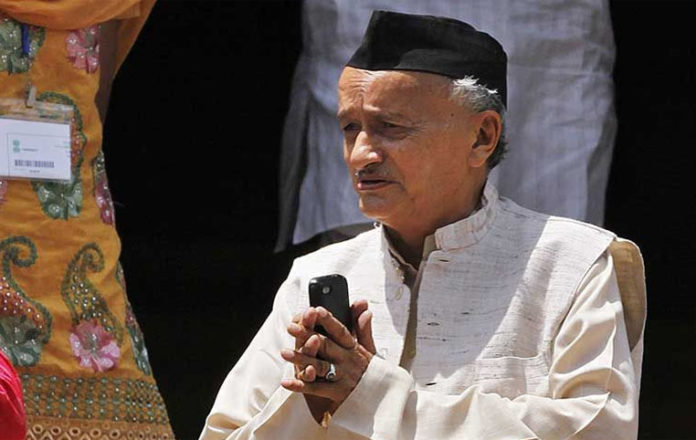 Former BJP CM and Nainital MP BS Koshyari has announced that he would not contest the next general elections in 2019 and quit active politics. Koshyari made this announcement at the 129th birth anniversary of veteran freedom fighter Govind Ballabh Pant in Nainital on Saturday. He said he had conveyed his decision to the party top leadership. He would devote himself to social work which he did before entering politics, he added.
An RSS parcharak, Koshyari is considered a strong candidate for the post of Chief Minister in case the BJP comes to power in the forthcoming Assembly poll. However, it is believed that he was unhappy at the turn of events with the party leadership unable to take a decision on the leader who would lead the party in the Assembly poll. With four former Chief ministers in the BJP, the party leadership has been unable to decide on the issue. Koshyari also skipped at least three crucial party meetings related with chalking out strategies for the Assembly poll held in the past week. But he denied that he was unhappy and said he could not attend those meeting due to his preoccupation with party work elsewhere. Koshyari a Rajput from Kumaon had been president of the Uttarakhand BJP before the state came into being in 2000.
By virtue of being a member of the Uttar Pradesh Legislative Council, he become a member of the Uttarakhand interim Assembly. He was a minister in the first ever interim state government headed by first Chief Minister Nityanand Swami. He opposed Nityanand Swami, forcing the party leadership to remove him before the first ever state Assembly elections in 2002. Koshyari become the Chief Minister of the state for a few months and led the party in the 2002 Assembly poll which the BJP lost badly to the Congress.
Koshyari won the 2014 Lok sabha elections from Nainital. Meanwhile, Shyam Jaju, general secretary in charge of the party affairs in Uttarakhand, today played down Koshyari's announcement and said he was the backbone of the party in the state.
Leave something in response: