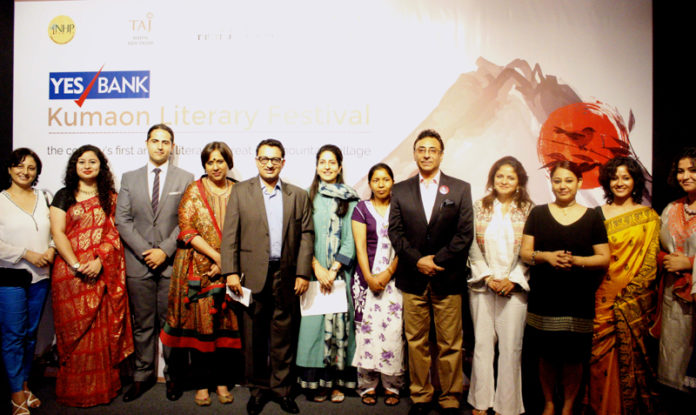 The YES BANK Kumaon Literary Festival (KLF) will be held from October 11 to 15 at the Jim's Jungle Retreat in the Jim Corbett National Park at Ramnagar and Te Aroha in Dhanachuli near Mukteshwar in Nainital District. This second edition of festival is part of a larger vision to develop Dhanachuli as a model cultural village.
The Kumaon Literary Festival shall play host to many famous names from the world of literature, publishing, cinema and politics. TM Krishna, who was recently conferred with Magsaysay Award, will deliver the keynote address. Authors such as Amish Tripathi, Jean Echenoz, Ravi Subramanian, Preeti Shenoy, Jerry Pinto, Tuhin Sinha, Shinie Anotny, Hindol Sengupta, Dr Rakhshanda Jalil, Nirupama Dutt, and many others have confirmed their presence at the festival. Dr Abhishek Manu Singhvi, Justice AK Sikri, Pavan Varma, Shatrughan Sinha, Tarun Vijay, Shahid Siddiqui, Priyanka Chaturvedi, Nupur Sharma and others from the world of politics and law have agreed to be a part of the festival. Publishers Chiki Sarkar of Juggernaut, Anant Padmanabhan of Harper Collins and Aditi of Vani Prakashan will also attend. Biographers Sathya Saran, Yatindra Mishra, Aseem Chabra, Jai Arjun Singh, Akshay Manwani, Yasser Usman and Gautam Chintamani have all consented to attend the festival. Yossi Ginsberg, Australian filmmaker, will also attend the Kumaon Literary Festival. Ajay Rawat, Anup Sah, Deepak Rawat, Mona Verma, CS Tiwari, Hridayesh Joshi and Sanjay Pandey from Uttarakhand heartland will be present at different sessions of the festival. A flagship initiative of the NHP Centre, KLF is part of a larger vision to develop Dhanachuli as a model cultural village. Founded by Sumant Batra, an eminent lawyer and creative innovator, KLF is conceptualized as an institution with an eco-system comprising of initiatives, projects and activities that are not limited or confined to the five-day festival.
The institutionalized approach to the festival is aimed at maximizing impact and optimize on resources that will help in identifying hidden talent, open avenues and opportunities for writers and increase their access through translations and other means to a larger audience.
A biography on film star Rekha, film-maker Nasir Hussain and other books will be launched at the KLF. The event aims at having sessions on different topics, including Shifting Notions of the Nation State: Will national ideologies dominate global politics in 21st century? ; Voice From the Well: How is Dalit Literature redefining perceptions and mind-sets; Scion of Ikshvaku, Jaane Kahan Gaye Woh Din: Will the era of epic lyricists and singers ever return?; Yours versus my nationalism-Being on the wrong side of the 'patriotism' divide; The Difficulty of Being Good, Star-Then & Now: The idea of a star in Hindi cinema over the last decades; and Literature in Judicial Pronouncements and When will we get our next Karamchand ?. A book launch of "The Sea Lies Ahead" by Intezar Husain will also take place. He says, "The first (2015) edition of the KLF was an unprecedented success that positioning it among the most popular literature festivals of the country. We aspire to raise the bar further this year".
"The KLF is the best thing that could happen to Uttarakhand. It has brought the state on the global literary map," says Daleep Akoi, chair of the KLF Organizing Committee.
Leave something in response: