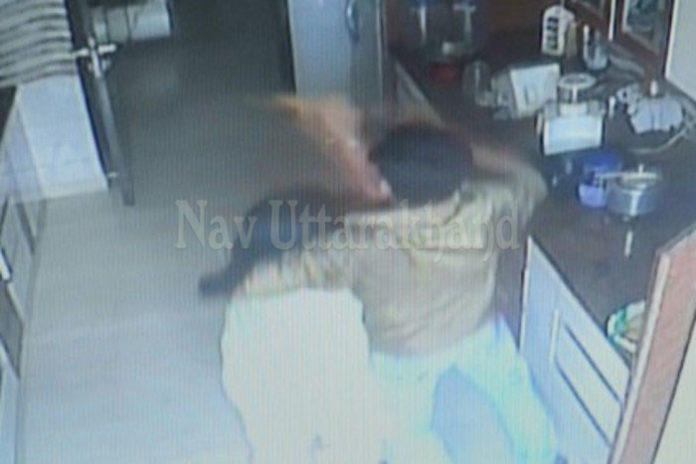 Haldwani: Nainital Police have arrested the domestic help who was absconding after murder of Uma Kansal, wife of one of the leading chemists of Haldwani, which had sent shock-waves throughout the region. The gory act of murder was caught in the CCTV camera placed inside the house. Police arrested the domestic help Santosh from the Indira Nagar area of Haldwani on Sunday morning.
The accused, Santosh, who was working in the household for the past three years allegedly stabbed her repeatedly before escaping. Santosh was arrested from Indira Nagar area in Haldwani on Sunday.
Assistant superintendent of police, Yashwant Singh Chauhan, said, "The accused has been on the run since Friday morning. He was living in the forest near Indira Nagar area. He came out of the forest in search of food and fell asleep in a marriage hall in Indira Nagar."
Chauhan, added, "The accused seems mentally unstable and the motive for murder is unclear."
The incident happened on Friday. CCTV footage caught Santosh having a heated argument with another domestic help Reena in the kitchen. He then suddenly attacked her with a knife. She then ran for her life and locked herself in a bathroom.
On hearing screams, Kansal rushed to the kitchen where Santosh stabbed her later beat her up with an iron rod leaving her bleeding profusely.
She was rushed to a nearby private hospital immediately where she succumbed to her injuries. The post-mortem report suggested internal wounds and bleeding as cause of death.
Pankaj Consul, the deceased's husband, said, "We are in shock over the whole incident. We have always treated Santosh as a family member, but could never think that such a thing will ever happen."
Leave something in response: