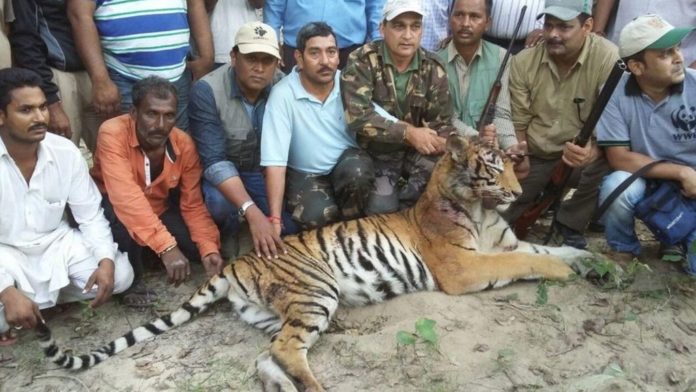 A man eater tigress that had terrorized several peoples across Ramnagar was shot dead on Thursday. It was one of the biggest operations launched in Uttarakhand in the recent past for a six-year-old tigress, who had killed & injured villagers in Ramnagar Area, After a 44-day hunt involving several hunters and hundreds of forest department workers besides a Search Helicopter and Camera Drones.
Forest department officials said the tigress, blamed for two human deaths, was shot dead at a village around 250 km from Dehradun, where it was hiding in a sugarcane field and nursing bullet wounds she suffered on Wednesday during a failed bid to kill it. Said to be one of the biggest such operations in the state, the government spent an estimated Rs 75 lakh to kill the man eater tigress and demands to tackle it had become a political issue in poll-bound Uttarakhand. The opposition BJP had accused the Congress government of not doing enough to solve the people's problems. As villagers and the forest department rejoiced at the killing of the predator, experts warned that eliminating one man eater tigress was unlikely to solve the bigger problem of the state, which is battling growing man-animal conflict.
Increasing encroachment of wildlife habitats was leading to a severe lack of space and prey base for the big cats, experts say, forcing them to kill humans to survive. Though instances of tigers taking to human kills are rare in the state, there are more than a 100 leopards officially classified as man-eaters, as per a 2015 estimate. Officials said the killed big cat, nicknamed the 'sugarcane tigress' for its habit of hiding in plantations, was around five to six years old. On Wednesday evening, hunters had fired at least 15 rounds in the same area but it managed to escape. One of the hunters Joy Hukil said one bullet had hit the big cat. After forest department teams spotted blood trails on sugarcane leaves, a search operation was launched at night with the help of a hi-tech thermal imagery which can scan for heat signatures of living beings from the air. However, the tigress continued to elude the hunters.
On Thursday afternoon, the tigress was finally killed after it was spotted by hunting dogs, officials said. "The people of the area will feel safe now," said Parag Madhukar Dhakate, the western division conservator of forests. As news of the tigress death spread, people danced in joy and rushed to pose for photographs with the carcass.
"We have to evolve effective methods of wildlife management. Problems like this exist in high density wildlife areas. I think that rescue teams must be set up at the divisional level so that such conflicts can be solved at the earliest. The corridors of tigers and other animals are under threat and we must give proper attention to their conservation," said conservationist AG Ansari. More than 350 people have been killed by big cats since the formation of the state, official data show.
Leave something in response: