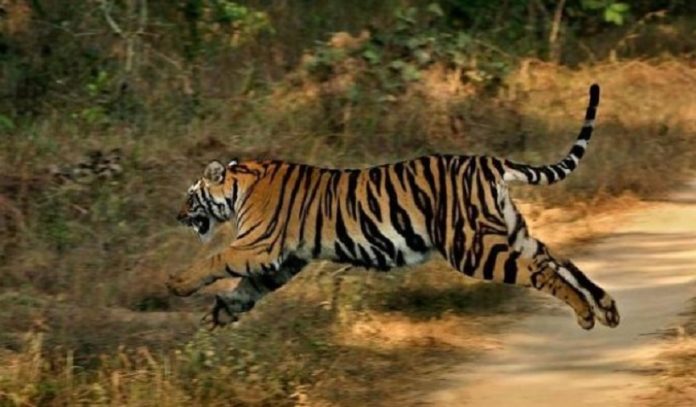 The hunt for a man-eating tigress continues in Corbett Tiger Reserve in Ramnagar Area, the forest department has already spent more than Rs 50 Lakh in less than a month on the hunt, Two Drones, more than 150 Staff, Five Trained Shooters and Experts from the forest department have been deployed but the tigress still remains elusive.
The animal has now earned the epithet of 'Sugarcane Tigress' as it has been spotted a number of times moving in the sugarcane fields in the region, slyly dodging the traps put up to capture it.
The forest department and the Corbett Tiger Reserve (CTR) have been deployed in six different locations at Ramnagar, adjacent to CTR, to corner and bag the man-eater tigress. Two drones are also constantly scanning the area to pinpoint its location.
The tigress is still at large although its images have been captured on over 100 camera traps set up by the forest department a few times. The forest department has also roped in trained dogs to capture the tigress.
Parag Madhukar Dhakate, conservator of forests (western circle) and in charge of the operations told, "The movement of the tigress is being tracked diligently but the animal is familiar with the terrain. We cornered it many a times in the past week but she escaped."
Cages with herbivores as bait have been installed at many locations but they failed to lure the animal. A chopper was also pressed into service to tranquilize the tigress. The big cat has killed at least two people and left four injured since past month. At the time of filing this report, the big cat had been cornered again and efforts were on to capture it.
Those involved in the search operation said that over Rs 50 Lakh have been spent on tracking for the animal.
Angry residents of Ramnagar, mainly farmers, are pressurizing the forest department to kill the big cat in view of the approaching harvest season when the people will be forced to be out on the fields.
People were also said to be angry as elephants used to locate the tigress have damaged standing crops of sugarcane and wheat.
 Though man-leopard conflicts are quiet rampant, man-eater tigers are rare in the hill state which has a large number of big cats. Experts and animal rights activists say that a growing human population and decreasing forest cover were pushing the big cats out of their habitats, leading to confrontation with humans.
Leave something in response: