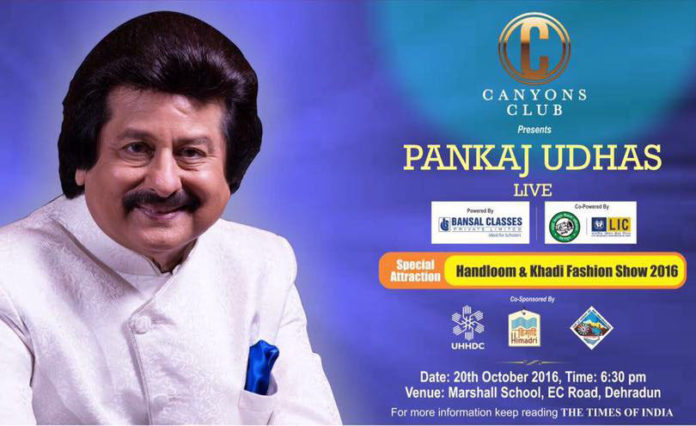 The Legendray Gazal Singer & Padma Shri Awardee Mr. Pankaj Udhas coming to Dehradun for the first time, the concert promises to be a complete treat for music lovers. The event scheduled on October 20, 2016 from 6.30 P.M. on-wards in a special musical evening which is a dedication to lovers all around the world at Marshall School, 40 East Canal Road, Dehradun, Uttarakhand.
Pankaj Udhas is ready to set the mood with his soulful romantic Ghazals like Chandi Jaisa rang hai tera, Chitthi Ayi Hai, Aur ahista kijiye baatein, Jiye toh Jiye, Na Kajre ki Dhar, Chupke Chupke & many more.
Ghazal maestro Pankaj Udhas, known for a number of mesmerizing tracks like 'Chithi Aayi Hai,' 'Chandi Jaisa Rang,' 'Na Kajre Ki Dhar' etc. With just a few days left for the event, excitement has already started building up in the city among those who are excited at the prospect of seeing the renowned performer, a Padma Shri Awardee, render his much-loved songs in a live performance.
The presenting sponsor for the event is Canyons Club while other notable sponsors include Bansal Classes and LIC of India. A special attraction for the evening apart from the soulful tracks, will be a 'Himadri Handloom and Khadi Fashion Show" presented by Uttarakhand Handloom and Handicraft Development Council (UHHDC) and Uttarakhand Khadi and Gramodyog Board to promote Handloom and Khadi from the state.
Leave something in response: