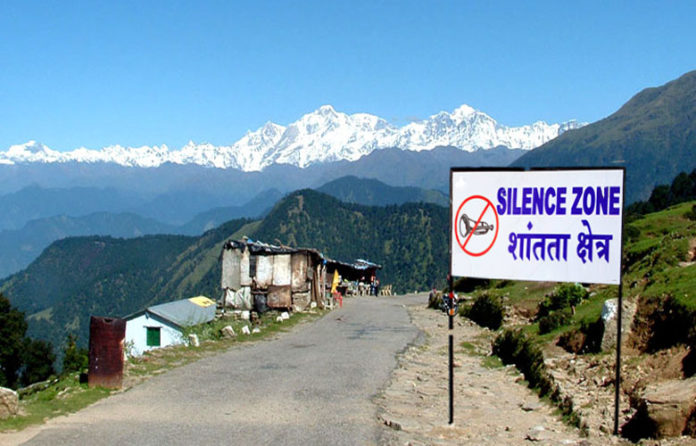 To ensure that tourists who flock to Uttarakhand have a pleasant and peaceful stay, the state government will develop 12 destinations in the state as noise-free zones. While making the announcement at his Beejapur guest house on Sunday, CM Harish Rawat said, "I have directed the state tourism department to identify 12 such places within stipulated time. In the first phase, two tourist destinations will be developed into noise-free zones."
Rawat made the announcement after he returned from meeting with Union finance minister Arun Jaitley at Nainital Raj Bhavan. State chief secretary Shatrughana Singh will chalk out modalities with senior officials in the state tourism department. Singh said, "The exact locations of these places will be finalized after survey of various spots by officials. Destinations like Chopta, Berinag, Binsar and Ranikhet and Dhanaulti could make it to the list." the government would make an effort to develop pollution-free smart townships in the state. He said efforts will be made to control noise pollution also at Gad- Mukteshwar and Gairsain and if possible, the towns will be made no-horn zones soon.
Elaborating on what steps would be taken to ensure no noise in these areas, Singh said that the details are yet to be finalized but the government has a few measures in mind. "The nearby hotels and resorts could be asked to not hold loud parties. To eliminate traffic noise, parking facilities can be provided to vehicles a few distance away from the areas and tourists can be asked to walk to reach their destination. We will look into the feasibility of these plans." The concept of noise-free zones is being appreciated by travellers. "The noise-free zone is a good concept. Many tourists come to Uttarakhand to enjoy the serenity of its hills and such zones will help boost tourism," said Rakesh Mittal, a resident of Jodhpur, who was visiting Dehradun.
Leave something in response: