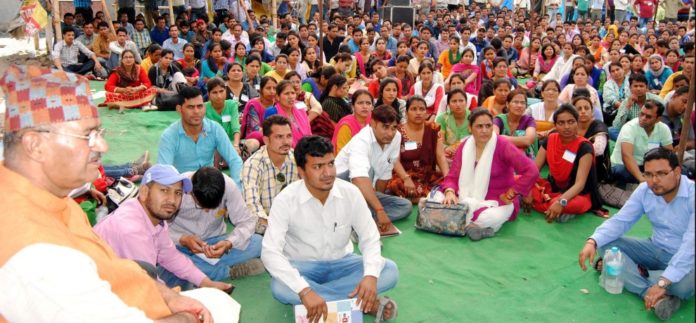 Dehradun: Members of the Junior High School Shikshak Sangh and Rajkiya Shikshak Sangh said on Sunday decided to boycott "Teacher's Day" celebrations, They have decided to take this step since "the state government was simply giving us false assurances and not taking concrete steps to fulfill our demands." Subhash Chauhan, president of Junior High School Shikshak Sangh, which is pressing for implementation of a three-tier cadre system for teachers in the state, told TOI, "There is no point in celebrating Teachers' Day when the teachers' demands are being ignored.
On Monday, nearly 4000 junior high schools across the state will remain shut and 200-plus schools in the Doon district will also remain closed. Besides, teachers will initiate protests in all 95 blocks of the state before presenting a memorandum of demands to education officials."
Ram Singh Chauhan president, Rajkiya Shikshak Sangh, added, "Nearly 2500 teachers associated with our organisation will boycott all Teachers' Day celebrations and will follow it up with an an indefinite relay hunger strike in front of the education directorate the next day."
The demands of the teachers include regular yearly transfers, with amendments in the transfer policy to give everyone a chance to serve in either the hills and plains, expedited promotions, salary hike, grade pay parity between all teachers, assured career progression and the assurance to not initiate action against any teacher without a thorough investigation.
Meanwhile, nine teachers from the state were getting ready to receive an award from the President at Rashtrapati Bhawan on Monday for their meritorious work in the field of education and had already reached New Delhi. In Uttarakhand, 26 teachers of primary and secondary schools were also getting ready to receive the Governor's Teachers Award at Raj Bhawan.
Leave something in response: