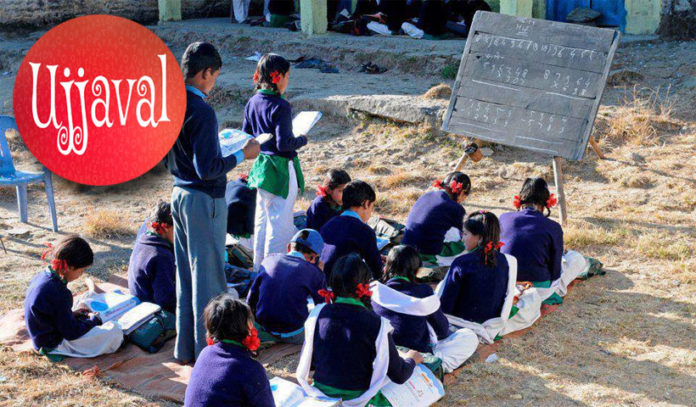 Ujjaval Mobile Application & E-Magazine launched on Thrusday in Haridwar, Uttarakhand, Over 130 government schools took a step towards paperless management of school records with the launch of  this mobile application "Ujjaval". Almost 107 primary government schools and 26 upper primary schools in Roorkee block of Haridwar district will be connected through the app and they will be able to easily manage students' attendance, teachers' leave and other necessary records.
Besides the app, an e-magazine by the same name was also launched at primary school level. As told to NU, Brijpal Singh Rathore, Deputy Education Officer of Roorkee said, "It was indeed a proud moment when the Ujjaval app was launched by the primary education director Seema Jaunsari at the education directorate in Dehradun. She encouraged us to go ahead with our initiative, stating that use of technology is imperative in today's time."
Rathore further said, "With the help of this app, almost 107 primary government schools in the Roorkee block and 26 upper primary schools will be benefited as of now. Slowly we will increase the ambit and add more schools. The app will not only benefit teachers, but also ensure we head towards a paperless work culture in government schools."
It is learnt that Reena, who goes by her first name and is the deputy education officer in the adjoining Narsan block, also contributed in the initiative. "With the launch of Ujjaval app, the office work will be completed in a fast and environment-friendly manner and the work will be completed through fair means," Reena said.
Hailing the Ujjaval app and its need, a primary government school teacher from Roorkee block, Sanjay Vats said, "Data related to students strength, attendance, mid-day meal, leave format for teachers and provisions of RTE are available on this app for all teachers to access in our block. We are really happy with the initiative and hope that other districts also join us in embracing technology and saving paper."
Primary education director Seema Jaunsari said that it is a great initiative from Haridwar district and the education department encourages such innovative steps by officials and teachers.
Leave something in response: