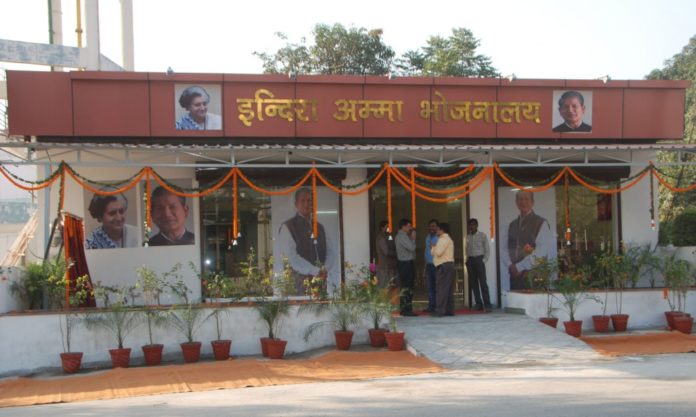 To make available cheaper and nutritious food available to all, Chief Minister Harish Rawat on announced that 100 more new Indira Amma canteens would be opened within a couple of days if civic bodies like panchyats, municipalities provide place for the purpose in different districts.
"As the number of beneficiaries went up every day and demand for setting up more similar canteens was raised in other districts, CM Rawat said process to open these canteens would begin soon after civic bodies agree to the proposal. "As we have now 17 canteens so far, if these 100 more canteens are set up, its number will go up to 117", said CM Rawat. Visitors to the Indira Amma canteen in MDDA complex in Clock Tower area were left pleasantly surprised to find chief minister Harish Rawat distributing food tokens from behind the counter.
Rawat turned up at the canteen to celebrate its success as it has managed to sell 3 lakh plates since a year of its launch in August 2015.
Rawat made it clear with these Indira Amma Canteens becoming popular among people every day, they are not only contributing to boost the sale of popular traditional local dishes like Mandua, Jhanghora and other items but are also helping to upgrade the socio-economic life of women working in different self-help women groups as the food times which are cooked in these canteens are bought through these women groups.
Appreciating the role played by women self-help groups to improve their standard of living through these canteens, Rawat clarified that despite low-cost food, ever since Indira Amma Canteen campaign was launched, state government has also been able to generate good business. "We are trying to make assessment of the profit margins made by state government through this business", said a senior official in state food department.
The state-sponsored Indira Amma Bhojanalaya scheme was formally introduced by CM Rawat over a year ago. The scheme aims at providing nutritious food at Rs 20 to Rs 25 per plate.
After news spread that chief minister was present in the canteen, many people flocked to the site to catch a glimpse of him distributing the tokens.
"We are lucky to receive food tokens from none other than the CM," said Amar Singh Rathore, a bus driver. Another local trader, Mahesh Chand said, "It was a special day and we were served tasty food like puri, chholey, naan and mandua chapatis apart from a variety of pulses and vegetables."
After taking feedback from customers at the canteen, Rawat said, "I'm glad I was able to render my services to people here."
Leave something in response: