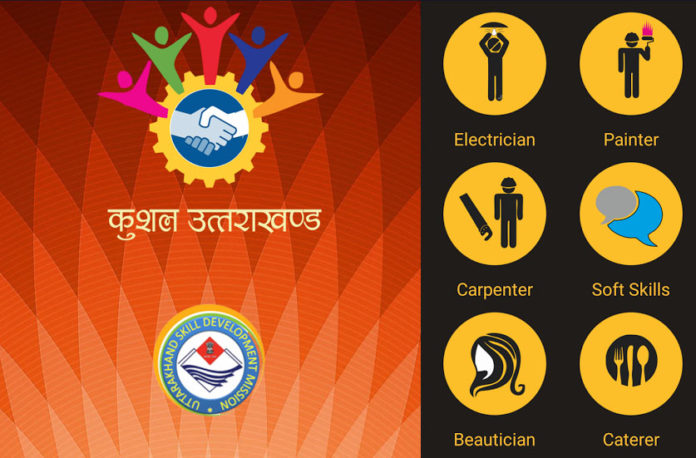 The Uttarakhand Skill Development Mission (UKSDM) launched new android mobile app "Kushal Uttarakhand" which intends to improve the skill-sets of unemployed youth in the hill state. UKSDM initiated the first-of-its kind two-day workshop in the city titled 'Synergy' where personnel from over 60 departments of the state and central government who are involved in skill enhancing programs, came under one platform for the purpose of coordinating for the idea and theme of "Skilled Uttarakhand"
Click Here to Download the App
As per conservative estimates there are over 5 lakh unemployed youth in the state but only 12,000 registered unemployed with UKSDM and the mission plans to skill enhance 10,000 youth of Uttarakhand this year i.e by 2016-17 and 5 lakh youth in the next 5 years. Based on deliberations, the impact of the workshop will be assessed and in the near future skills' supply-demand gap analysis and policy analysis will be done to present the best of opportunities to the youngsters in the state considering the state has huge scope of skilled manpower which is still untapped.
The various dignitaries present came with an aim to ensure that benefits of skill enhancing programs must reach to unemployed youth of all sections of the state in plains and even in the far flung hilly regions to enable youth for start-up, entrepreneurship or wage/salary employment prospects. Even as MOUs were exchanged by UKSDM with various sector skill councils (SSC), the representatives of varied sector skill councils deliberated upon different sectors like beauty and wellness, tourism and hospitality, apparel, handicrafts and carpet sector , life sciences sector, food processing sector, sports, physical education besides many others and their scope and reach in Uttarakhand, following which interactive sessions of the participants were held to establish the fact that there is still tremendous scope to skill the youth of the state and give them employment opportunities.
Om Prakash, IAS, Principal Secretary, Government of Uttarakhand while inaugurating "SYNERGY" said, "UKSDM is indeed quite important in the context of the state and majority of unemployed and unskilled youth here. All departments through this workshop will come closer to one another as far as coordination for skilled Uttarakhand is concerned." Prakash appreciated the initiatives taken by UKSDM in path of achieving goal of Skilled Uttarakhand and launched a mobile app "Kushal Uttarakhand" (available to be downloaded on google Playstore or UKSDM official website).
Leave something in response: