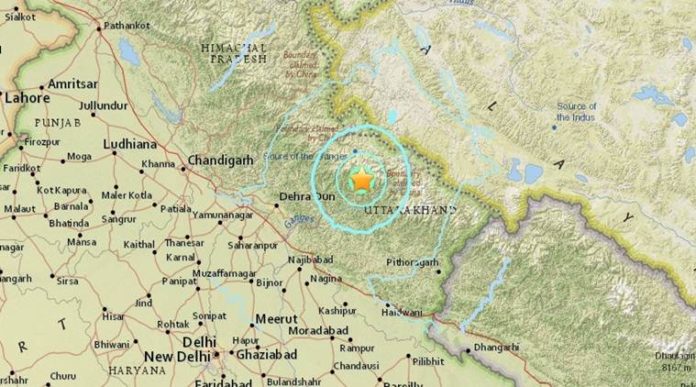 A shallow earthquake of 5.8 magnitude hit Uttarakhand this evening causing tremors across struck Uttarakhand late on Monday night Today.
Earthquake Tremors were also felt in Mussoriee, Ghaziabad, Delhi, Saharanpur, Pithoragarh, Mathura, Rishikesh, Shamli and Chandigarh.
. "The depth of the quake was 33 km and it occurred at 10:33 pm," said J L Gautam, Operations head at the National Seismological Bureau, a unit of Ministry of Earth Sciences. The area is in high seismic zone. Tremors were also felt in Gwalior of Madhya Pradesh in Central India.
Two teams of the National Disaster Response Force (NDRF) have been rushed to Rudraprayag to conduct relief and rescue operations should the need arise.
A clear picture of the effect of the quake on the region is yet to emerge. The quake brought people out of their homes across Uttarakhand, as well as other cities across northern India.
The India Meteorological Department (IMD) located the epicentre in the mountain state's Rudraprayag District. However, the European-Mediterranean Seismological Centre (EMSC) and United States Geological Service (USGS) have located the epicentre close to Pipalkoti.
Tremors were reported from Delhi-NCR, Chandigarh, Dehradun, Agra and a number of other places in the region. The tremors were reported to have lasted over 30 seconds in some places.
Union Home Minister Rajnath Singh has asked for a detailed report on the earthquake, and the situation is being closely monitored by the Centre.
Here are the latest updates: 
"The MHA is closely monitoring the situation in earthquake hit Uttarakhand and other north Indian states where the tremors have been felt," the Office of the Home Minister said on Twitter.
The official account of the Home Minister of India tweeted, "The NDRF teams have been rushed from Ghaziabad to Uttarakhand to conduct rescue and relief operations, if the situation arises."
All ITBP Battalions in Uttarakhand and Himachal on alert.
<blockquote class="twitter-tweet" data-lang="en"><p lang="en" dir="ltr">Spoke to officials &amp; took stock of the situation in the wake of the earthquake felt in various parts of North India.</p>&mdash; Narendra Modi (@narendramodi) <a href="https://twitter.com/narendramodi/status/828668367200464897″>February 6, 2017</a></blockquote>
<script async src="//platform.twitter.com/widgets.js" charset="utf-8″></script>
CM Rawat added that his administration is still collecting information.
Uttarakhand Chief Minister Harish Rawat spoke to India Today, saying there is nothing to be worried about. Rawat added that all concerned departments have been alerted and that no loss of life has been reported yet.
The NDRF has been put on high alert and Home Minister Rajnath Singh has asked for a detailed report on earthquake.
DG NDRF said two teams have been rushed to Uttarakhand's Rudraprayag district, the epicentre of tonight's earthquake.
Speaking to India Today Ajay Josh, SP Pithoragarh said, "No reports of damage to property or life have been received so far. Relief and rescue teams have been put on alert. Electricity and telephone e-service remain unaffected by the earthquake. We are keeping close watch on the situation."
<blockquote class="twitter-tweet" data-lang="en"><p lang="en" dir="ltr">PMO is in touch with officials in Uttarakhand, which is the epicentre of the quake. I pray for everyone&#39;s safety &amp; wellbeing.</p>&mdash; Narendra Modi (@narendramodi) <a href="https://twitter.com/narendramodi/status/828668782302416899″>February 6, 2017</a></blockquote>
<script async src="//platform.twitter.com/widgets.js" charset="utf-8″></script>
Leave something in response: