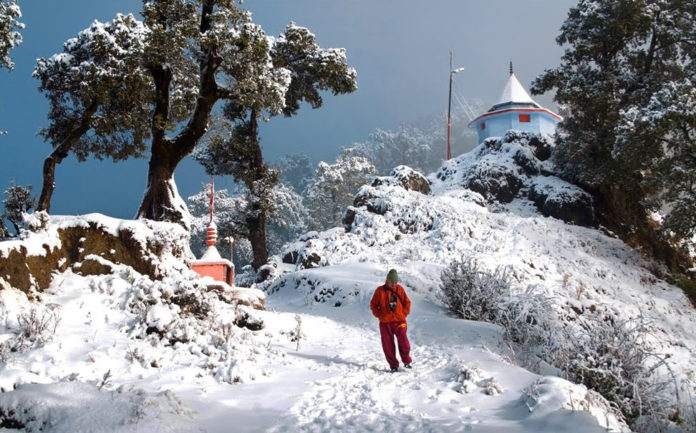 There is some good news for those looking forward to snow in the hills of Uttarakhand around the New Year Eve as MeT office on Friday predicted rain and now in the hilly districts of the state on December 31 and January 1. Following a fresh spell of western disturbance and presence cyclonic circulation at the lower level, light rain and snow is likely to occur at isolated places in Pithoragarh, Bageshwar, Chamoli, Rudraprayag and Uttarkashi districts of Uttarakhand.
Bikram Singh, director of MeT centre in Dehradun said, "Snowfall is likely at places with height 3000m eters and above, as other places in the state are expected to be lashed by rain. However, the impact would be higher in Kumaon region. Munsyari in Pithoragarh is likely to receive good amount of snow."
According to MeT officials, the weather will start changing after December 31 evening onwards with likelihood of light rain and snow in the hills. Inclement weather is likely to prevail across the state on the first day of the New Year and conditions will start normalizing from January 2 onwards, said Bikram Singh. Hailstones might lash higher reaches in Nainital, Pauri and Dehradun districts on Saturday and Sunday as well. The rain and snow activity will result in considerable drop in the maximum temperature across the state on Saturday and Sunday. The meteorologists have said that people should expect at least 5-6 degrees Celsius dip in the maximum temperature. "The current average day temperature in the plains is 22 degree Celsius and it is expected to settle around 16 degrees from Saturday night onwards. The mercury will also plunge in hills as well," said Bikram Singh. On Friday, Dehradun recorded the maximum temperature at 22.7 degree Celsius while minimum settled at 7.6 degrees. On the other hand, maximum temperature in Pantnagar remained at 21.7 degree Celsius whereas the minimum hovered around 9 degrees.
Leave something in response: