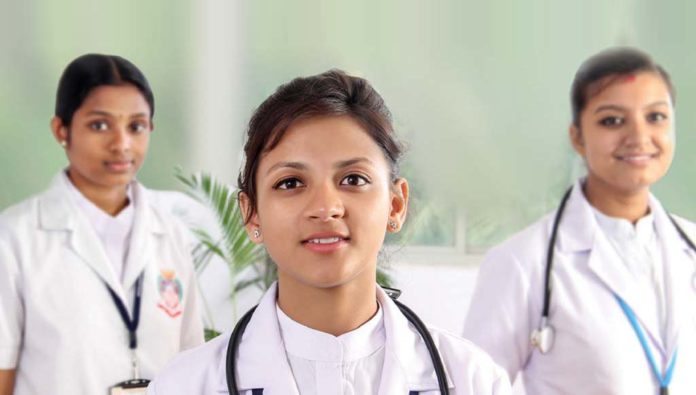 The Indian Nursing Council approved five new government nursing colleges and a nursing school to be set up in Uttarakhand. At present, the state has a single government nursing college in Dehradun which was established in 2010 and has only 60 seats.
The new colleges will be set up in Almora, Pithoragarh, Haldwani, Chamoli and Tehri districts after approval by the Indian Nursing Council, the national regulatory body for nurses and nurse education in India. While each college will have 40 seats, the institution in Pithoragarh will admit 30 students.
A government nursing school will also be set up in Haridwar where Auxiliary nurse midwives (ANM), which are village-level female health workers, and General Nursing & Midwifery (GNMs) will be trained. Dehradun and Nainital currently have one government nursing school each.
Dr Ashutosh Sayana, director, medical education department, said, "We have tried for long to get approval for these colleges. The courses will provide us with a strong paramedical staff and professionally trained lower-level healthcare workers."
The new colleges will bring the dream of a nursing education closer for many people in the hill state. The four-year long courses in government colleges will cost around Rs 11,000 annually while the fee in private colleges starts from Rs 60,000. "We are happy that we will not have to go to other states for a nursing course or pay a huge fee at a private institute," said Sunita Kumari, a nursing aspirant from Dehradun.
 The academic session in the colleges and the school will start this year and November 10 is the last date for students to apply. Classes are expected to begin by the third week of November. While the officials of the medical education department accepted that the buildings of the colleges is not yet ready in some districts, they said that alternate arrangements have been made and classes will start on time. "Students of the college in Chamoli will be sent to Tehri nursing college while students of Almora and Pithoragarh nursing colleges will be sent to Haldwani medical college for three months," said an officer of the department.
Dr J P Sharma, president, Indian Medical Association, Dehradun, added, "These colleges can enhance overall health services in Uttarkahand if the nursing students are asked to sign a bond with the state government to work in the hilly regions." Unlike MBBS students in government colleges, nursing students do not have to sign a bond that makes it mandatory for them to work in the hills for some time after completion of their course.
Leave something in response: