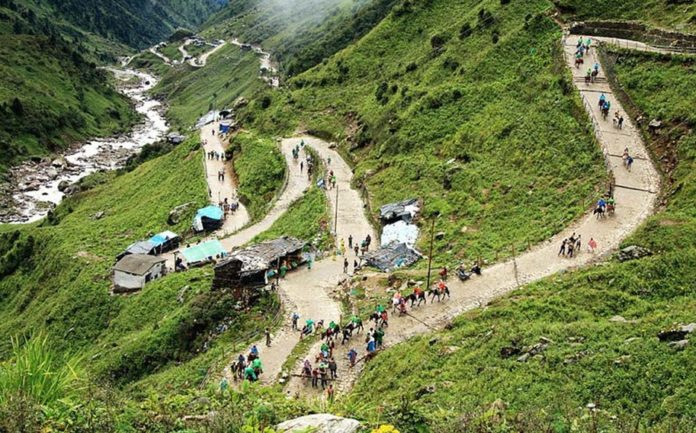 Around 200 trekkers will trek from 6 newly developed Trekking Routes for Kedarnath from October 3 on-wards and will reach to Kedarnath using these different routes where CM Harish Rawat himself will facilitate them.
These new trekking routes are:
Dehradun- Sitapur-Kedarnath-Vasukital.
Dehradun-Guttu-Panwali-Trijuginarayan
Dehradun-Chaumasi-Kham-Baljitiya-Kedarnath.
Dehradun-Ransi-Manni-Kedarnath
Dehradun -Shersi-Jhanditop- Kedarnath- Vasukital
Dehradun-Chopta-Bisudital-Chaumasi-Kedarnath
General manager of Garhwal Mandal Vikas Nigam Mr. D.L. RANA said, "These trekking routes have been discovered and developed in order to provide more alternative routes to the pilgrims and tourists at Kedarnath. When the flash flood struck in Kedarnath, the stranded people did not know any alternative route available in the hills and forest surrounding the temple. They had no option but to tread on the route which was hit by the deluge itself, which resulted in loss of thousands of precious lives."
The event has been organized by GMVN and funded by Uttarakhand Tourism Development Board. It was free of cost for trekkers who were selected by Mountaineers and Trekkers Association.
"The number of trekkers are now growing further from 200 as locals are also joining. The hardcore mountaineer and porters of these villages, situated in most treacherous places have been selected for the toughest treks. There are other medium treks for other trekkers too. However four physical challenged, researchers and doctors have been put to regular trek of Gaurikund to Kedarnath also." He said, during these treks villages like Ransi and Gondar in Madmaheshwar which were not much known to people, nor the treks available for Kedarnath also came to limelight.
"People of these villages are well-versed with the trekking routes for Kedarnath. Had they been included during the disaster related operations, many lives could have been saved. He said, "The officials too have been made part of the treks so that they can get conversant with the routes, their topography, challenges and ways how to carry out rescue operations, if needed." He said, the trekkers stayed in home stays of the local villagers only, as they wanted the local people to be benefited and, also local community to get the exposure of tourism activity. He said, their association is engaged in discovering more routes with the help of villagers.
Leave something in response: