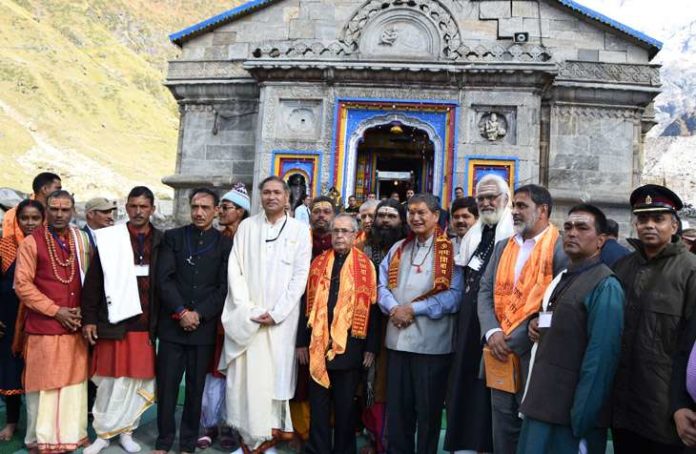 President of India Pranab Mukherjee finally reached Kedarnath Shrine in district Ruderprayag on Wednesday and visited the famous Lord Shiva temple after two failed attempts, when bad weather played spoilsport.This time, too the President had to cut his visit short, due to bad weather in Mandakini, and had to return to Dehradun almost one hour earlier than scheduled.
Mukherjee offered prayer at the famous Hindu Shrine and inspected the reconstruction work being carried out there. With this, the over one-year wait of the President's tour to Kedarnath ended.
Accompanied by Governor K.K. Paul and Chief Minister Harish Rawat, the President appeared happy after the 'Darshan' of the Kedarnath Shrine 'Shivalinga' — one of the 12 'Jyotirlingas' in India.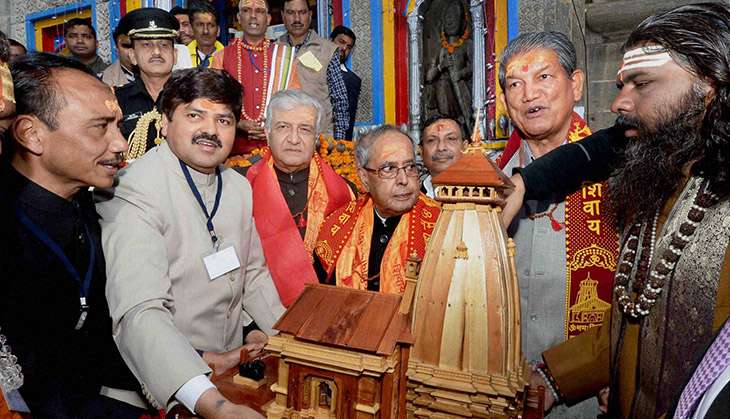 From the helipad, he was taken to the ancient temple dedicated to Shiva, located an altitude of 11,755 ft above sea level, on an All Terrain Vehicle (ATV). The President, with his son Abhijeet, offered their prayers in the Kedarnath temple.
He spent some 20 minutes inside the sanctum sanctorum and offered prayers for the wellbeing of everyone, an official said.
Mukherjee flew in an IAF chopper to the Kedarnath shrine amid tight security. As the temple priests led him into the puja, they gifted him a 'Ram-naami' cloth and a 'rudraksh' (bead) garland. The management of the temple also gifted the President a wooden replica of the temple.
President Mukherjee had earlier visited Uttarakhand on June 22, but had to abort the trip owing to bad weather and poor visibility. He went back to Delhi with a vow to return and offer prayers at the famed Shiva temple soon.
Mukherjee interacted with the priests and local officials, and sought information from the local government officials about the temple restoration work underway in and around the shrine.
Kedarnath Shrine was devastated in the 2013 flash floods and heavy rains, when thousands of people were killed and hundreds went missing. Restoration work is currently going on at the shrine and the roads leading to the famous temple.
Leave something in response: