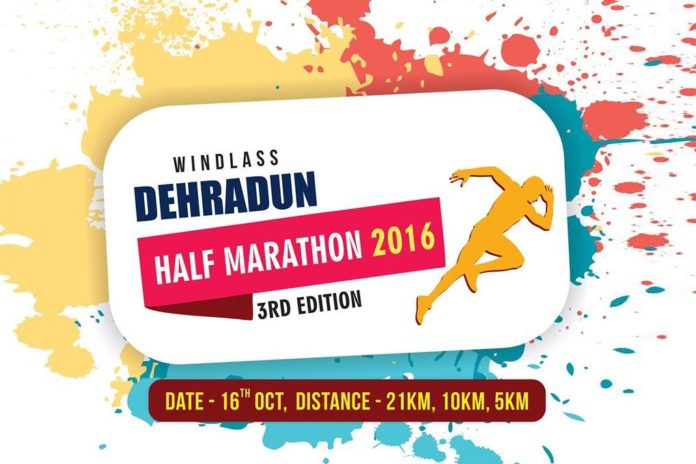 OVERVIEW Half Marathon 2016
Windlass Dehradun Half Marathon 2016 (3rd Edition)

Basic Details of the Event –
Event name – Windlass Dehradun Half Marathon 2016
Event date – 16th Oct 2016, Sunday, 5:00  AM (Reporting time),
Venue – Windlass, River Valley Kuanwala, Haridwar Road, Dehradun.
Organization Name: Thrill Zone Trust
Race Categories
The race will be divided in three categories: 21 km (with Timing Chip), 10 km (with Timing Chip), 5 km (Fun Run)
Accommodation – Breakfast – Dinner 
For all out station runners we will provide Accommodation, Breakfast, Dinner on payment basis, charges will be on discounted amount, all information regarding accommodation will be sent on 1st Sep 2016 For any query 9871497413
Timing Chip
We Have Timing Chip for 21 KM & 10 KM Challenge run
Age Categories in "Half Marathon":- Men
1- 18 years to 45 Years
2- 45 years to 55 years
3- 55+
Age Categories in "Half Marathon":- Women
1- 18 years to 40 Years
2- 40 years to 50 years
3- 50+
There is no age category in 10 km, open to all
Early bird discount is going on
Registration Fee:- 
21 km (Rs.1200)
10 km (Rs.1000)
5 km (Rs.500)
Note:- 
1- To participate in Half Marathon minimum age should be 18 years on race day, less than 18 would be disqualified in 21 k only.
2- Please do not participate if you are physically not fit.
Contact Details – For any query you can contact P.C. Kushwaha (9871497413) or mail on thrillzonetrust@gmail.com
Prizes :– There is no Prizes in any category. we have only trophies.
TICKETS
Tickets can be purchased here.
Click to Buy Tickets Online
Leave something in response: