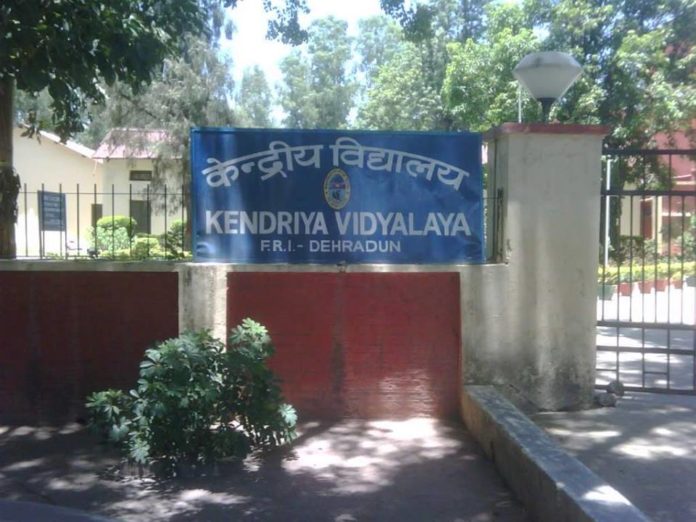 Dehradun's Kendriya Vidyalaya (Handow Road), has been declared the 'Cleanest School' among all the Kendriya Vidyalaya's in all over India as a part of Swachh Bharat Mission initiative. Prime Minister of Indian, Mr. Narendra Modi is expected to felicitate the school principal in New Delhi on September 30.
Santosh Kumar Mall, IAS, Commissioner of Kendriya Vidyalaya Sangathan (KVS), visited Kendriya Vidyalaya, Forrest Research Institute, Handow Road, IMA, Dehradun, to congratulate students and staff for emerging as the best vidyalaya in the country under Swachh Vidyalaya Abhiyan of the Swachh Bharat Abhiyan.
Charu Sharma, principal of Kendriya Vidyalaya Dehradun, said, "When our prime minister can pick up a broom himself and spread the message of cleanliness, I feel we all need to get collectively motivated to contribute our bit. Since last two years, our school children have been actively involved in cleanliness drives and campaigns and have ensured the school premises remains polythene free."
"When our school students and staff actively took up cleanliness drive, we did not expect any award will come out of it. However, it feels great to be acknowledged as the cleanest school in the country,"she said. The prime minister is likely to felicitate the school's principal at a programme in Delhi's Vigyan Bhavan on September 30.
"It would indeed be an honor for our school to be recognized on the national platform. As a part of our drive, we also initiated a green fine. So if a student came late or broke any rule of the school, he or she had to pay a 'green fine', that means the child had to gift a plant to the school and plant it in the premises. This slowly encouraged them to take initiative themselves and maintain cleanliness," said Sharma.
Spread across 15 acres, the school established in 1964 is 52-year-old. It is located in picturesque Forest Research Institute (FRI) area. The school students have also gone ahead to beautify the old walls of the school by painting and inscribing quotations.
Leave something in response: