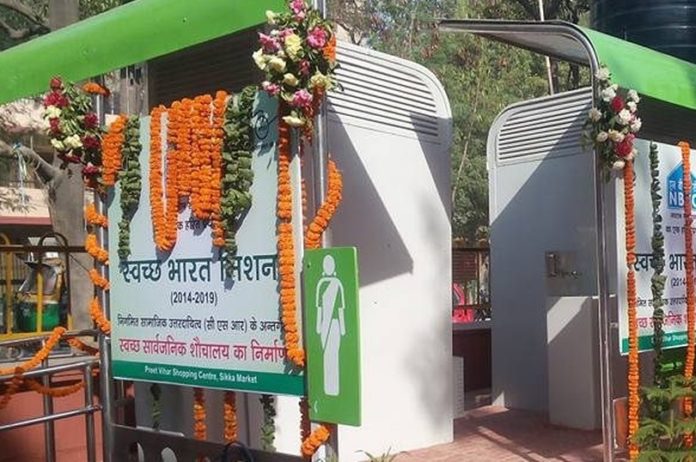 US Nagar has set a national record after 8,000 toilets were constructed in the Udham Singh Nagar under the Swacch Bharat Mission in just 20 days and secured a place in Limca Book of Records. The toilets were constructed in 351 gram panchayats of the district from January 25, 2016 to February 15, 2016.
Swajal Pariyojna, which carried out the construction work, was awarded the certificate on October 13, 2016. The then chief development officer (CDO) of the district, Dr Ashish Srivastava has also been recognized in the certificate.
Under the Swacch Bharat mission, US Nagar has to achieve a target of 76,016 toilets in the rural areas to be declared open-defecation-free (ODF). Until now, 64,613 toilets have been constructed in seven blocks of the district.
Rudrapur, Jaspur, Kashipur and Gadarpur have already been declared ODF and the district administration is hoping that the remaining blocks of Khatima, Sitarganj and Bazpur will also be declared to be ODF soon.
Srivastava said that the district is moving quickly to meet the targets under the Swacch Bharat mission and it will soon be declared ODF. "It is quite encouraging that our efforts have made it to the Limca Book of Records," he added.
When contacted, district magistrate (DM) Chandresh Yadav said that the district has performed well under the Swacch Bharat Mission. Blocks of Kashipur and Jaspur were declared ODF in June, while Rudrapur and Gadarpur were declared ODF in October. He said that the remaining three blocks will meet their targets by the end of December this year.
Yadav said that the administration is also running campaigns to bring awareness on cleanliness in the society. "In September, a bride here set an example when she refused to move in with her in-laws because they did not have a toilet. Three days after marriage, when the toilet was constructed, she went to stay with them at Kiccha. She was honored by the district administration on Gandhi Jayanti for this dauntless act," he said.
Leave something in response: