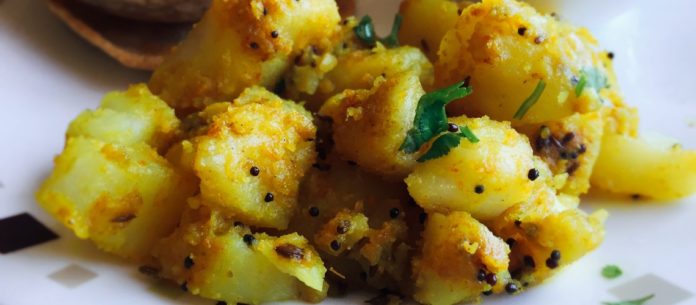 Aaloo ke Gutke: A very old Kumaoni dish, of Hilly Potato's fried in mustard oil, seasoned with red fried chillies, coriander leaves and other spices. Pahari aloo ke Gutke recipe is a regional culinary gem that has its origins in the hilly terrains of Uttarakhand. The tasty & spicy Uttarakhand Food and Cusine.
Ingredients:
Potatoes- 5-6
Mustard oil- 1 tbsp
Zeera- ½  tsp
Asafodita- 1 pinch
Salt – to taste
Turmeric- ½  tsp
Coriander powder- 1 tsp
Red Chilies- 3-4 nos.
Amchoor (dry green mango powder)-1 tsp
Curry leaves (optional)- some
Coriander leaves- to decorate
Method:
Boil potatoes, peel them and cut them into 1 inch cubes.
Sprinkle turmeric, red chili powder, coriander powder, amchoor and salt. Mix well.
Heat oil in wok and fry whole chilies in it till they turn brown.Take them out and keep aside.
Add Asafoetida, cumin seeds and curry leaves and let them splutter.
Add the mixed cubes of potatoes and stir fry them for some time.
Switch off the flame and cover vessel with lid. Let it stand for some time.
Sprinkle coriander leaves and cover it again for some time.
Note- Serve with green Pudina (mint) chutney and fried whole chilies.
Leave something in response: