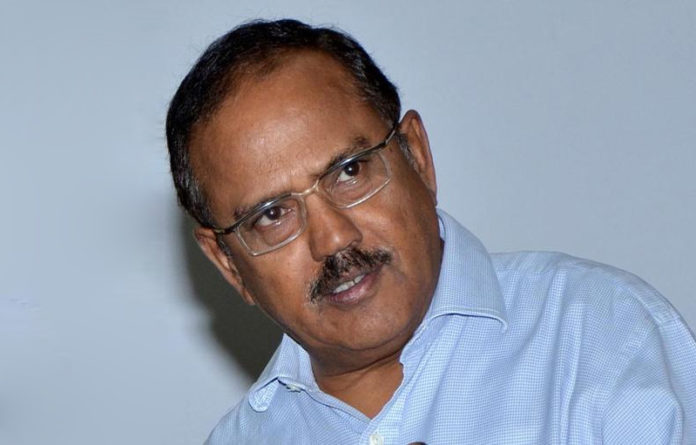 The Indian Army's latest surgical strikes across the LOC (Line of Control) in Pakistan on Sep 28, 2016, Night marked a shift from the policy of 'strategic prudence'. And it seems that the present government is more proactive and vocal about defending our borders than the previous government. This aggressive daring approach is the intrigue of none other than the India's National Security Adviser Mr. Ajit Doval, Who is India's best spymaster ever with his tactful ideas and strategies, He is the mastermind behind the surgical attacks, execution of every spy operation and he is also the man behind the counter attack of URI this September.
Full Name : Ajit Kumar Doval,
IPS (Retired), Awarded Police Medal, President Police Medal, Kirti Chakra (Born 20 January 1945) is a former Indian intelligence and law enforcement officer, who, since 30 May 2014, is the 5th and current 

National Security Adviser to the Prime Minister of India, Mr. Narendra Modi.

He had previously served as the Director of the Intelligence Bureau in 2004–05, after spending a decade as the head of its operations wing.
Life and Education:
Ajit Doval was born in a Garhwali Brahmin Family in the village of Ghiri Banelsyun in Pauri, Garhwal in Uttarakhand. Doval's father had served in the Indian Army.
He received his early education at the Ajmer Military School (formerly King George's Royal Indian Military School) in Ajmer, Rajasthan. He graduated with a master's degree in Economics from the University of Agra in 1967, obtaining the first position.
"In 1973, when I was posted in the North East, I attended the 'Shaurya Divas' event held by CRPF there. That event and the story of courage recounted had left an indelible mark on me and I was so impressed by it that I named my son as 'Shaurya' who was born 10-15 days after that," Said Ajit Doval.

Career Highlights:
A 1968-batch Indian Police Service officer of Kerala Cadre, Doval barely spent any time in the state before heading into the Intelligence Bureau (IB). He was actively involved in anti-insurgency operations in Mizoram and Punjab. Doval was one of three negotiators who negotiated the release of passengers from IC-814 in Kandahar in 1999. Uniquely, Doval has the experience of being involved in the termination of all 15 hijackings of Indian Airlines aircraft from 1971–1999.
In the Headquarters, he headed IB's operations wing for over a decade and was founder Chairman of the Multi Agency Centre (MAC) to help put all the agencies on one table to share real-time information. He also created the Joint Task Force on Intelligence (JTFI) that would concentrate on counter-terrorism.
When Mizo insurgency was at its peak, Doval infiltrated into the Mizo National Front's camp in the Arakans in Burma to meet Laldenga, the movement's leader. In an interview to a magazine later, Laldenga would cite Doval's work as the reason he decided to come on board and sign the Mizoram accord.
"I had seven military commanders under me. When Doval left, he took six of them with him and I had no choice but to come on board and negotiate a peace accord," Laldenga told his interviewers.
After Mizoram, Doval went to Sikkim where he played a role during the merger of the state with India.
During Operation Black Thunder-II that was launched to flush out militants from the Golden Temple in 1988, a small man, believed to be a Pakistani agent, quietly walked in. He met the Khalistani militant leaders and went missing soon after. Years later, it emerged that the man posing as a Pakistani agent was actually Ajit Doval.
He would become the first police officer to be awarded the second-highest peacetime gallantry award, The Kirti Chakra, for his exploits during the operation.
Doval spent six years in Indian High Commission in Islamabad, Pakistan. He went to Kashmir in 1990 and persuaded militants (like Kuka Parray) to become counter-insurgents targeting hard-line anti-India terrorists. This set the way for state elections in Jammu and Kashmir in 1996. Later, he was posted in the Indian High Commission in London, UK as a Minister.
In 1999 he was the lead negotiator for the release of the IC 814 hostages from Kandahar in Afghanistan.
"Doval never hesitated to take risks and this has always stood him in good stead and made him such an outstanding intelligence officer," 
During the NDA years, under Prime Minister Atal Bihari Vajpayee, Doval began to create structures to reform the sharing of information between intelligence agencies.
He was also a strong advocate of the Prevention of Terrorism Act, 2002, that gave sweeping powers to the police to combat terror. The law was controversial and was scrapped as soon as the UPA Government came to power in 2004.
For years Doval has advocated the improvement of internal security capacities and defence in a practical manner. Unlike the past NSA's who preferred to look at external issues, Doval is likely to concentrate on building India's internal capacities. Building border infrastructure, modernizing the intelligence community and pushing for a POTA – like law will be among his priorities.
After Retirement:
Ajit Doval retired in January 2005 as Director, Intelligence Bureau. In December 2009, he was the founder Director of the Vivekananda International Foundation, a think tank set up by the Vivekananda Kendra, a Spiritually Oriented Organisation.
Doval has remained actively involved in the discourse on national security in India. Besides writing editorial pieces for several leading newspapers and journals, he has delivered lectures on India's security challenges and foreign policy objectives at several renowned government and non-governmental institutions, security think-tanks in India and abroad.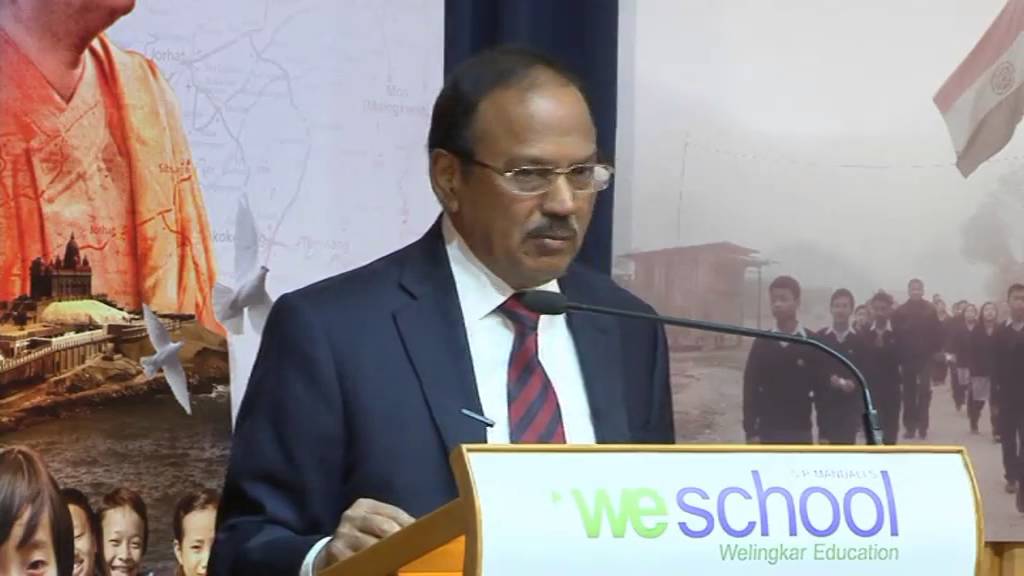 In recent years, he has delivered guest lectures on strategic issues at IISS, London, Capitol Hill, Washington DC, Australia-India Institute, University of Melbourne, National Defense College, New Delhi and the Lal Bahadur Shastri National Academy of Administration, Mussoorie.
Doval has also spoken internationally at global events, citing the ever increasing need of cooperation between the major established and emerging powers of the world.
PM Call for – The India's National Security Adviser
On 30 May 2014, Doval was appointed as India's fifth National Security Adviser. His appointment will be co-terminus with the term of the Prime Minister or till further orders, whichever is earlier, the order said.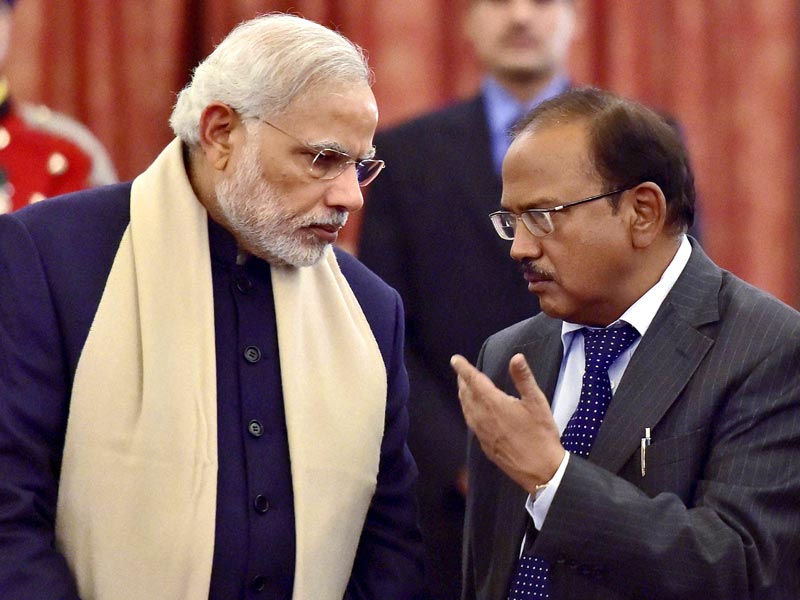 Suddenly Mr. Doval had met Mr. Modi at Gujarat Bhavan and gave him a brief on security challenges facing the country.
In June 2014, Doval played a crucial role in ensuring secure return of 46 Indian Nurses who were trapped in a hospital in Tikrit, Iraq. After the family members lost all contacts from these nurses, following the capture of Mosul by ISIS. Doval, on a top secret mission flew to Iraq on 25 June 2014 to understand the position on the ground and make high-level contacts in the Iraqi government. Although, the exact circumstances of their release are unclear, on 5 July 2014, ISIS militants handed the nurses to authorities at Erbil City and two specially arranged planes by Indian Government brought them back home to Kochi.
In an another mission along with Army Chief General Dalbir Singh Suhag, Doval planned a military operation against Indian militants operating out of Myanmar. The mission was said to be a success with 50 militant casualties.
On October 7, 2014, when national security adviser Ajit Doval summoned the BSF director general and asked him to respond to Pakistan's cross-border firing with "full force" even on slightest provocation.
"Doval had bluntly told the BSF brass that they were free to "fire at will" on Pakistan Rangers and systematically destroy their infrastructure until ceasefire violations from the other side stopped. "For one bullet fired by them, you respond with two."
Last October when Pakistan Rangers (Punjab) director general Major General Umar Farooq Burki was in Delhi for talks with the BSF, Pakistani forces had started heavy firing, and it went on for days. Doval and Home Minister of India, Mr. Rajnath Singh then instructed BSF to give a "befitting reply".

The BSF onslaught was such that Burki had to call up then BSF Chief DK Pathak on the "hotline" and request that the firing be stopped as 26 Pakistani civilians had been killed, sources said.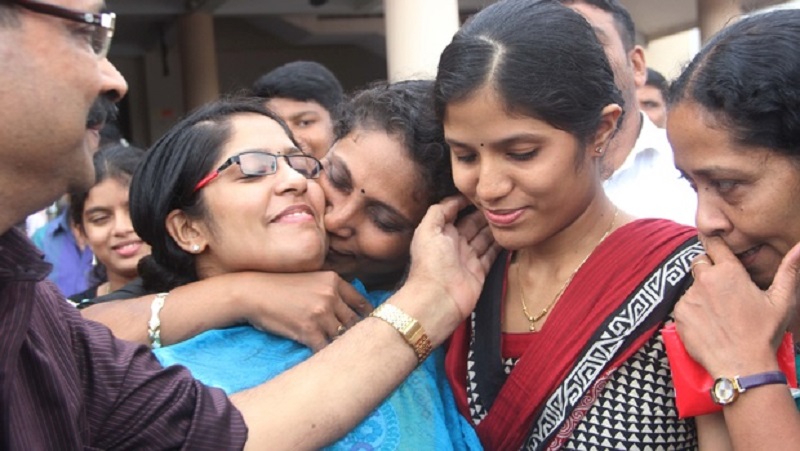 Ajit Doval's Master Plan (The Surgical Strike):
On September 28, 2016: An elite group of Indian Army conducted pre-dawn surgical strikes across Line of Control, killing 35-40 terrorists in Pakistan occupied kashmir, Ajit Doval spent his night at the "War Room" located at South Block that houses The Ministry of Defense. The entire operation was closely monitored by Ajit Doval, Defense Minister, Mr. Manohar Parrikar and The Chief of Army Staff General, Mr. Dalbir Singh Suhag. It is believed that the aggressive approach has been adopted by India for the first time since 1971 against Pakistan.
According to a report, on September 28 night at around 11:00 pm (The trio – Ajit Doval, Manohar Parrikar and General Dalbir Singh) – arrived separately at the war room and stayed till the operation was over and para-commandos reached their base safely. A sources described the atmosphere in the war room and compared it with the night when Osama Bin Laden was killed by US Special Forces and US security officials including President Barack Obama were closely monitoring the situation.
The Indian Army first targeted terror facilities around 20 km deep inside Pakistan occupied Kashmir and fired heavy artillery. The terrorists scattered under the surprise artillery fire. The terrorists were then tracked by drones until they took shelter at their launching pads located near Line of Control. About a dozen terrorist took shelter at each launching pad. Para commandos who were para-dropped at the spot then surrounded the launching pads and killed around 35-40 terrorists.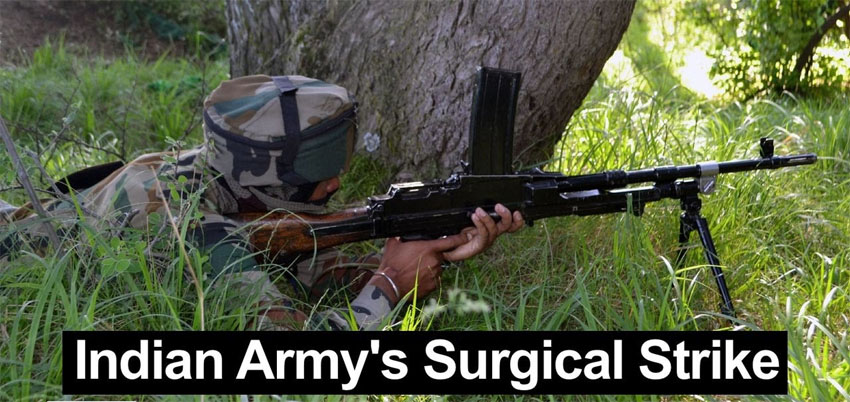 Awards and Recognitions:
Ajit Doval was the youngest police officer ever to get The Police Medal for meritorious service. He got it after six years in the police (The norm is at-least 17 years service).
He was later awarded The President's Police Medal.
In 1988, Ajit Doval was awarded one of the highest gallantry awards, The Kirti Chakra, becoming the first police officer to receive a medal previously given only as a military honor.
"India has a mindset that, where it hits, it punches below its weight," Doval said at an August 2015 lecture. "We have to increase our weight and punch proportionately."
Liked this story ? Have something to share or recommend ? Email: info@navuttarakhand.com, or join us on Facebook and Twitter – @Navuttarakhand.
Leave something in response: