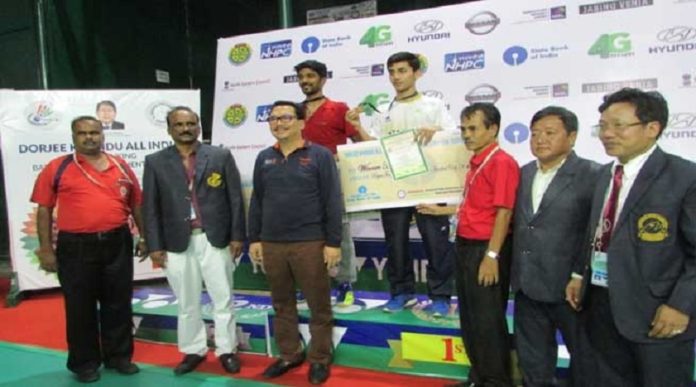 Almora Boy Lakshya Sen won All India Senior Ranking Badminton Tournament at Itanagar in Arunachal Pradesh on Sunday. Seventeen-year-old Lakshya Sen defeated Daniel Farid of Karnataka in straight sets 21-9, 21-19 and became the youngest player to win the tournament.
In semifinal he defeated top seeded Shreyans Jaiswal of Chandigarh in 21-19, 11-21, 21-18 and in Quarter finals he sensationally defeated 21-15, 21-12 his older brother Chirag Sen. Lakshya's father DK Sen is a national badminton coach.
President of UBA – Ashok Kumar, said, "It's a big sporting achievement for Uttarakhand as our player has won the senior badminton tournament for the first time. Lakshya has already proved his mettle in the junior badminton circuit by winning many trophies in past but now he has won it at senior level as well." Lakshya's elder sibling, Chirag Sen, is also a national level badminton player and currently ranked ninth in the senior players ranking in the country.
A proud brother who was around his younger sibling throughout the match, Chirag Sen told, "I am extremely happy for Lakshya. He has achieved something very big and no one has ever won a senior level badminton tournament in my state. I am sure he will continue winning more matches and tournaments for our state." Currently ranked number 14 in the men's seniors and third in the Under-17 boys singles category.
Lakshya won the Israel Junior International Badminton Tournament at the age of 11 and later went on to become Under-15 and Under-17 national champion. At the age of 13, he also won Under-19 badminton tournament held at the Wimbledon Racquet and Fitness Club in England in September, 2014.
His father and Sports Authority of India (SAI) badminton coach at Almora, D K Sen, said, "I am happy that Lakshya has won the tournament and made the whole state proud. He has been training hard and playing aggressive badminton in the previous tournaments as well." Both the brothers have been training under famous coach Vimal Kumar who is also the coach of Saina Nehwal. Another shuttler from the state Bodhit Joshi reached semi-finals of the tournament and lost to Daniel Farid, who was defeated in the finals by Lakshya.
Leave something in response: