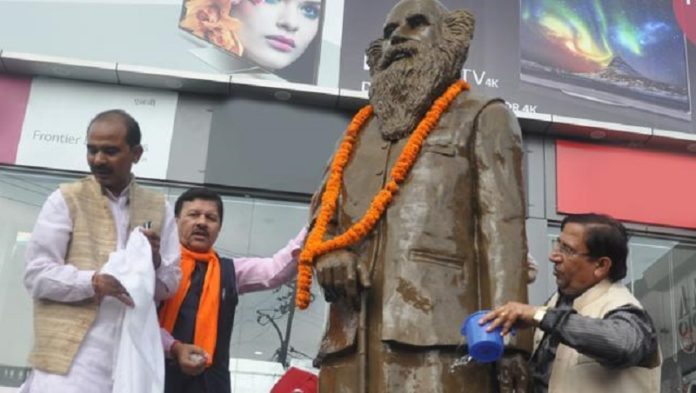 The BJP celebrated Narendra Modi's birthday on Saturday as 'Sewa Diwas' (day of service) across the country but its Uttarakhand unit suggested that the celebration was aimed at wooing Dalits votes ahead of the 2017 assembly polls. Party insiders said the 'Sewa Diwas' was a part of its strategy to woo the state's 18% Dalit voters.
"Their number may not be much but in a small state like Uttarakhand the Dalit votes can tilt the scale in any party's favour," a senior state BJP leader said.
He admitted that the 'Sewa Diwas' was the beginning of a series of programmes the party plans to organize to wrest the Dalit votes from the Congress and the Bahujan Samaj Party (BSP).
"The Congress and BSP having a sway over the Dalit votes is a huge worry for us as we are desperate to return to power after remaining in political oblivion for five years," the BJP leader said.
Naresh Bansal, the BJP state unit general secretary, said the party organised a number of social welfare programmes for the poorest of the poor, including Dalits.
Besides, the BJP plans to organise a 20-day programme in October dedicated to Dalits, he said. "Dalit sammelans (conferences) will be organised in all 70 assembly constituencies beginning October 5."
BJP leader and former assembly speaker Prakash Pant said party workers from 10, 800 polling booths would participate in the proposed conferences.
"These (conferences) would not be like those usual programmes where hordes of politicians come, deliver their boring speeches and leave," he said.
"We will ensure that the participants access facilities relating to the central schemes to start some sort of self-employment or set up Micro Small and Medium Enterprises," Pant said.
Political observers see in the BJP's "new found love" for Dalits compulsions of electoral mathematics. "The strategy behind the BJP wooing Dalit voters is clear. It doesn't want to take any chance as far as the assembly polls are concerned," said Prof MC Sati of HNB Garhwal (central) University.
The trend in previous assembly elections shows how crucial are Dalits for the BJP and the Congress that have been alternately ruling the state since its formation in 2000.
"Our party lost the 2002 assembly election to the Congress as our vote share was just 1.2% less than our rival (Congress)," told a BJP leader.
"We won the 2007 assembly election as our vote share was 1.5% more than that of the Congress but lost the 2012 assembly election as our vote share went down by .5%."
Leave something in response: