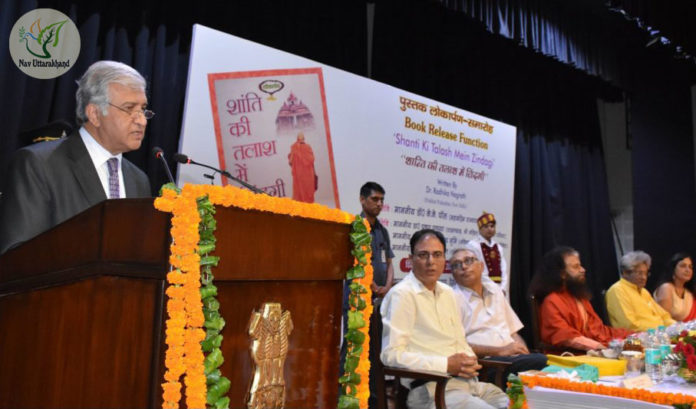 Uttarakhand Governor released a book at Raj Bhawan Auditorum on Hindi Diwas titled 'Shanti ki Talaash mein Zindagi' written in Hindi by Radhika Nagrath, Author and journalist based in Haridwar.
"The book is a philosophical treatise written in simple language incorporating interesting examples and anecdotes from day-to-day life," the Governor said in his address after releasing the book in the Raj Bhawan auditorium.
Earlier, speaking of the book, the writer Dr Radhika Nagrath said she had written about some time-tested solutions that could help the readers find inner peace. She said she had interviewed many life-coaches to arrive at some conclusions regarding peace. She said she had derived inspiration from a conference on sustainable peace held in 2009 in University of California, Los Angeles where delegates from United Nations had come and every one presented an idea on peace which forms part of the book.
Describing the book as a result of in-depth study of life and people, Uttarakhand Governor K.K. Paul said it highlighted the importance of leading a life that avoids engaging itself with the superficial side of things.
"The five-thousand-year-old Indian civilisation always advocated a value-based way of living and regarded superficiality as just a Mrigtrishna (illusion), " Governor Paul said, adding, it was only appropriate to release the book on the occasion of Hindi Diwas.
Swami Chidananda Saraswati of Rishikesh-based spiritual organisation Paramarth Niketan who was a special guest on the occasion, said there is no limit to human desires and running after them could not bring peace.
He said meditation and introspection were as important for human beings as anchors to boats.
Head of Gayatri Parivar Pranav Pandya said, "Peace is within us while we keep looking for it outside".
He said that if a person attains peace, he or she will get joy and success automatically.
(This story has not been edited by Business Standard staff and is auto-generated from a syndicated feed.)
Leave something in response: