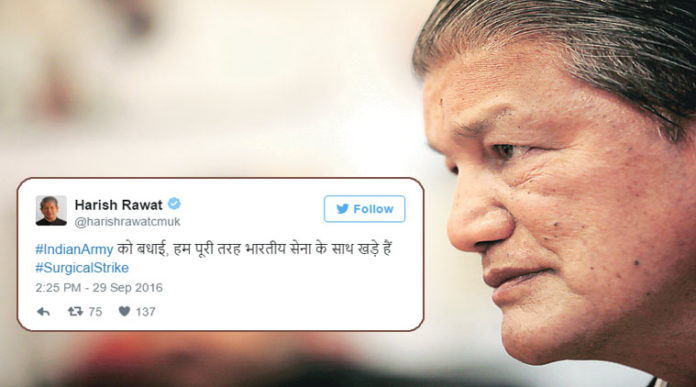 The Chief Minister of Uttarakhand State, Mr. Harish Rawat personally tweeted," #IndianArmy को बधाई, हम पूरी तरह भारतीय सेना के साथ खड़े हैं  #SurgicalStrike.
His Party INC India's also tweeted "INC whole heatedly supports the surgical strike on terror pads in POK by Indian Army. We salute the valor of our armed forces".
Here are the tweets:
#IndianArmy को बधाई, हम पूरी तरह भारतीय सेना के साथ खड़े हैं #SurgicalStrike

— Harish Rawat (@harishrawatcmuk) September 29, 2016
My salute to the brave #IndianArmy for the successful #SurgicalStrike against #Pakistan . Congratulations @adgpi

— Harish Rawat (@harishrawatcmuk) September 30, 2016
Uttarakhand Cabinet Salutes exemplary courage and valour of Indian Army #SaluteToTheArmy https://t.co/jk5XyIO62w

— Harish Rawat (@harishrawatcmuk) September 30, 2016
Rawat's tweet was being re-tweeted at speed and garnered almost 100 likes in under an hour while many from the state like Twitter user, Deepak Kothiyal commented on the social media platform, "Pura Uttarakhand #Indian Army ke saath hai". Another lecturer from the state who has himself in the past served in the defense foces, Mukesh Prasad Bahuguna shared on his Facebook wall, "Pakistan can only understand the language of Surgical Strike and it was high time that this was done. The saturation point had come!"
Even as #SurgicalStrike and #IndianArmy were trending on Twitter all day long, the users even on messaging apps like WhatsApp kept interacting with each other all day, some in patriotic fervor and others while commending the Indian Army. One such message which was going viral on messaging apps read, "Dear Pakistani terrorists, you don't need to cross LOC for getting killed. Army has started home delivery. Special festive season offer" while saluting the Indian Army and present government and PM, Narendra Modi.
While, celebrities like author Chetan Bhagat also took to Twitter to state, "Dear Pakistan, just to be clear, today you killed your own people. By attacking us first and compelling us to retaliate. #SurgicalStrike! Time will tell the consequences but India stands united with utmost patriotism and respect for the Indian Army.
Leave something in response: