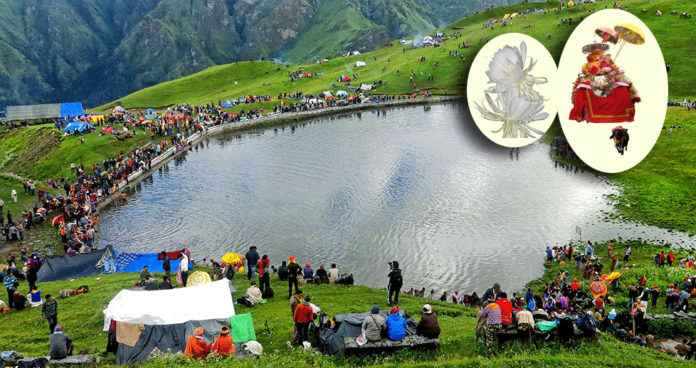 Team of more than 80-85 peoples from the lower Johar valley villages will start a journey to the Himalayan glacier of Hiramani today, To collect the very rare White Lotus (Brahma Kamal) flower to offer it to Goddess Nanda Devi, The idols of which are established in every village of the area. Brahma Kamal is a flower of Uttarakhand and is only available in the high Himalayan Glaciers.
The festival of Nanda Devi will be celebrated in the Kumaon region on September 9, preparation for which have begun from today."The main festivity will be solemnized in Champawat district on September 9 when a procession of Nanda Devi palanquin will be held in the town," said Mohan Chandra Patni, chairperson of the mela committee in Champawat."
Villagers will trek bare foot, take a bath in the sacred Nanda Kunda before eating self-prepared food while on their way to collect the flower," said Aan Singh Dhami, a villager from Samkot village of Johar valley.
According to Dhami, the devotees, who will reach the 15,000 feet high glacier after two days of trek, The glacier is surrounded by peaks like Nanda Devi (7,848 m), Nanda Kot (6,861 m), and Trishul (7,120 m). And will seek permission from the goddess before plucking the flowers. "The Nandakund is venerated by residents of the Danpur belt of Bageshwar besides the people of the lower Johar valley," said another villager from Ginigaon, who is leading 45 devotees from his village to Hiramani glacier.
Villagers from the lower part of the Johar valley have demanded that facilities be created on the trek route from Talla Johar to Hiramani glacier as every year hundred of villagers go there to collect Brahma Kamal but there are no staying and medical facilities. "Last year, two devotees died due to lack of medical facilities while en route to high Himalayan Glaciers," said Aan Singh.
Leave something in response: