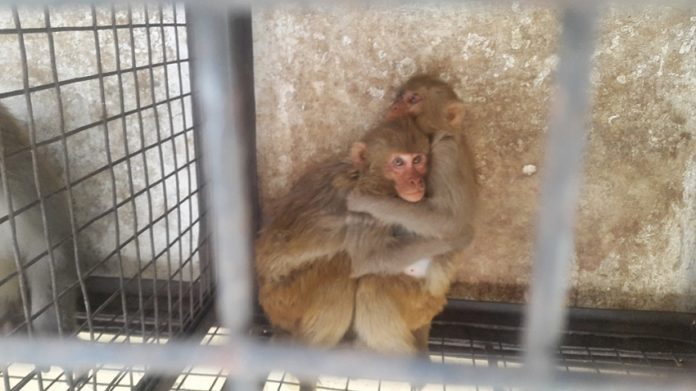 The State Government has launched a "monkey control" programme involving trained personnel on Wednesday, the State forest and wildlife minister Dinesh Agrawal flagged off a team of the forest department personnel trained in monkey-capture. The group of monkey catching personnel was flagged off by the minister near Pipaleshwar Mahadev temple at Bharuwala Grant which is also part of the minister's Dharmpur assembly constituency.
Speaking on the occasion, the forest and wildlife minister said that the State Government had released an amount of `1 crore for capturing monkeys as part of efforts aimed at controlling the human-monkey conflict. Additionally, a sum of Rs one crore from the Compensatory Afforestation Fund Management and Planning Authority (CAMPA) will also be expended for tackling the human-simian conflict across the state.
Addressing the local gathering, the minister further said that on the basis of survey and animal counts conducted in the entire state, the monkey population in Uttarakhand was estimated to be about 1.50 lakh individuals Agrawal said, "To tackle the monkey menace, the state will facilitate capture of the monkeys after which the simians will be kept in an enclosure for some time before being released in a distant forest area.
Funds received from the State Government and CAMPA will be put to use for this purpose. The monkey-control campaign will be executed on a mission-mode in the entire state," averred the minister.
Agrawal further said that a monkey enclosure had been built in Haridwar as part of measures aimed at controlling the "monkey-menace" in the state whereas construction of a similar facility in Almora is in its final stage. "The captured monkeys will be sterilised and kept at the shelter or release in remote forest areas depending on the condition. The monkeys population is increasing consistently and incidence of monkey bites reported by visitors to religious sites has also risen. The people should not feed any type of food to the monkeys and in case of damage being caused by the simians, they should contact the forest department without delay," said the minister.
Speaking on the occasion, the Dehradun divisional forest officer, Prasanna Kumar Patro said that three to four teams will be formed for the capture of monkeys in the Dehradun division. These teams will also be provided all necessary equipment and resources in order to keep a check on the human-simian conflict. This campaign will be undertaken on a consistent basis, added the DFO. The occasion was also marked by the trained personnel of the forest department capturing one monkey here with the capture drive being continued in the region. These captured monkeys will be kept in the monkey enclosure at Haridwar. The district panchcyat member Rajesh Parmar, Gram Pradhan Ramesh Mangu, Dehradun sub divisional officer Gul Vir Singh were also among those present on the occasion.
Leave something in response: