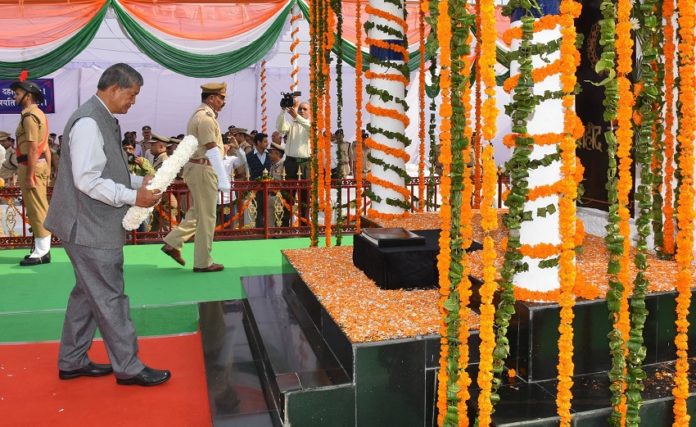 Today on Police Commemoration Day (Smriti Diwas), Chief Minister Mr. Harish Rawat, along with police top brass paid homage to the 10 cops  at Dehradun police lines, who made the supreme sacrifice while performing their duties in the Himalayan state during the last one year.
In a Smriti Diwas function the CM made a number of announcements for the welfare of police department that includes Rs 6 crore for completion of construction work at Police Training Centre at Narendra Nagar and Rs 7 crore completing the undergoing construction of police stations and residential complexes.
Constable Anant Kumar, Constable Pankaj Chauhan, Constable Praveen Kumar, Constable Basant Singh Bora, Platoon Command Roop Kishore, Constable Ajay Prakash, Constable Ajay Singh Constable Dinesh Kumar, Constable Rajendra Singh Rawat and Head Constable Dhan Singh Chauhan were the 10 cops of Uttarakhand police who laid down their lives in line of duty.
DPG M A Ganapathy's speech has a special mention of Constable Anant Kumar and Constable Pankaj Chauhan. "Acting on a tip off of animal poaching and smuggling of skins, an SDRF team was rushed to Uttarkashi on April 6, this year. In the encounter with the poachers, Constable Kumar suffered bullet wound and expired. We are extremely proud of these 10 martyrs," said the DGP.
Addressing the Smriti Diwas gathering, Rawat said, "The work of policemen in Uttarakhand is extremely challenging as the state shares border with China and Nepal at the same time also with Uttar Pradesh and Himachal Pradesh. We laud the efforts of the entire force for their dedication and commitment. I ensure the police department that we will leave no stone unturned in our efforts to provide them the best facilities possible. We will ensure that finance does not act a hurdle in police works."
On the Smriti Diwas occasion, he announced a Rs 1,200 dress allowance for Class IV employees of police department. He said that as per the earlier decision of at least one woman Sub Inspector in each police station, the process for recruitment of 150 women Constables has been started and it was almost nearing completion.
"I am aware that funds are required to complete the construction work at PTC Narendra Nagar, for which I am announcing the approval of required amount of Rs 6 crore," said the chief minister. He further added that Rs 6 crore has been approved for the completion of under-construction buildings of police stations and residential complexes.
Leave something in response: