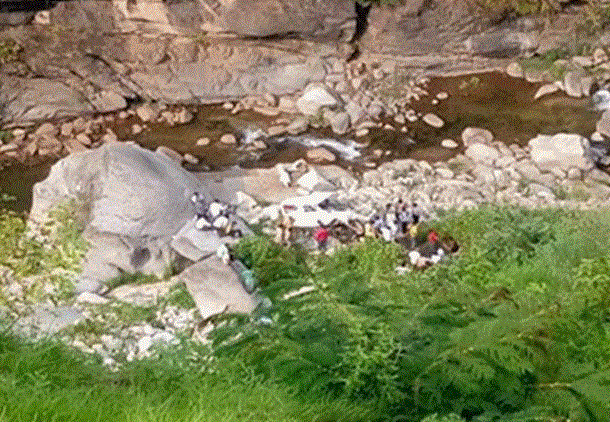 2 people died 9 were got injured in a accident when their vehicle tumbled into a 300-metre-deep gorge near Dolsi Village under Dhanotli tehsil of Tehri district on Wednesday afternoon. Out of the 11 occupants of the vehicle two were women. As per authorities, two persons died on the spot, later identified as Rajesh (45) of Birpur Dunda in Uttarkashi and Suman (22), hailing from Kotdhar, Uttarkashi district.
Thatyud police station in-charge DM Baloni said the vehicle bearing registration number UK010 TA0086 was on its way to Uttarkashi from Dehradun when the driver lost control over it all of a sudden near Dolsi village around 3.15 pm. The bodies have been sent to Thatyud government hospital. These will be sent to New Tehri hospital for postmortem. The families of the deceased and the injured have been informed about the mishap, Baloni said.
Disaster management officer of Tehri district, Brijesh Bhatt, said, "The vehicle was going towards Uttarkashi and it seems that the driver lost control which led to the accident. Police team from Thatyur and a rescue team from the disaster management department has been rushed to the spot for rescue operations."
Three critically injured persons were taken to a hospital in Mussoorie for treatment while the other injured were sent to a primary health centre at Thatyur. The two deceased have been identified as residents of Uttarkashi.
The injured have been identified as Anjali Rawat (20) of Gyunla village in Dharasu (Uttarkashi), Tahir (21) of Pathanpura Bediyan Deoband (Saharanpur), 30-year-old Ajay (driver) of Gyansu (Uttarkashi), Brijesh Chauhan of Kalsi (Dehradun), Ramgopal Nautiyal (64) of Badripur (Dehradun), Krishna Nanad Kudiyal (37) of Gyansu (Uttarkashi), Pratap Singh (48) of Kotiyal Gaon (Uttarkashi), Kusum Bhandari (24) of Nalupani (Uttarkashi) and Surendar Gusain of Koti village (Uttarkashi).
The official data released by the Uttarakhand police shows a gradual increase in the number of deaths in road mishaps. In 2001, 698 people died in road mishaps across the state and the number rose to 913 in 2015. The first eight months of 2016 have witnessed over a dozen major road mishaps in Uttarakhand mostly in the hilly areas.
The state reported loss of 641 lives in 1,075 road accidents which took place in the first eight months of 2016. The number is far above 583 deaths caused from 955 accidents in the corresponding period of 2015.
ADG administration Ram Singh Meena said, "Surprisingly, most of the drivers involved in these accidents are from the state who are well acquainted with the routes. It reflects that overconfidence is a major cause behind the accidents."
Meena pointed out that rash driving, overloading, driving in a drunken state are the other major reasons behind the rise. "We need to set up parapets, warning signs and reflectors to bring down the number of accidents," he added.
Leave something in response: