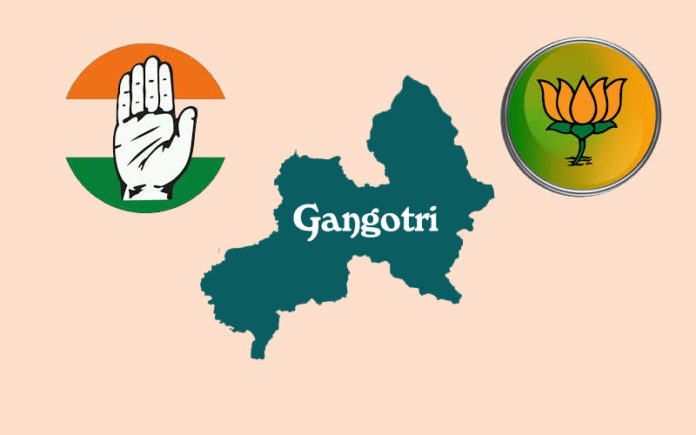 BJP and Congress are eyeing the Gangotri seat in Uttarkashi for the next assembly elections, The reason behind is the strong general belief in the political corridors of Uttarakhand that since the state was carved out of Uttar Pradesh, the party winning the constituency goes on to form the government in the Himalayan state. The political history of the state too confirms the fact. After the state was created in 2000, the first election was held in 2002 and Congress candidate Vijay Pal Sajwan who the seat.
Congress formed the government and N D Tiwari became the first elected Chief Minister of Uttarakhand. BJP's Gopal Singh Rawat emerged victorious in 2007 and the party went on to form government and B C Khanduri became the CM. Tides turned in the favour of Congress in 2012, and again Sajwan won and Congress came to power with Vijay Bahuguna taking oath as CM. The word has gone around strongly in the political corridors and both BJP and Congress believe that constituency is "auspicious" and one blessed by "Maa Ganga."
Congress spokesperson Mathura Dutt Joshi pointed out that Uttarakhand was known as Devbhoomi and the birth place of "holy" Ganga. "Sajwan is the sitting MLA and is likely to be party nominee in 2017. He stands a strong chance of winning the election. Large scale development work, which includes the road to the Gangotri dham, has been carried out in the constituency and people are pleased with the performance of the party," told Joshi.
The Congress spokesperson maintained that the party would aggressively take up the poll campaign in the "special" constituency. At the same time, the party hold a similar significance for the opposition BJP. "Ganga and Yamuna rivers are known as the savior of civilization. Though all 70 seats of Uttarakhand are important for us, we are well aware of the strong buzz on winning the Gangotri seat and its symbolic importance, therefore we are paying a special attention to it," BJP spokesman Munna Singh Chauhan said.
He maintained that though the candidate would be finalized by the national leadership, the state unit will leave no stone unturned in the constituency regarded as lucky charm but not only politicians but also the people of Uttarakhand.
Leave something in response: